Emirates organises surprise Arsenal soccer star school visit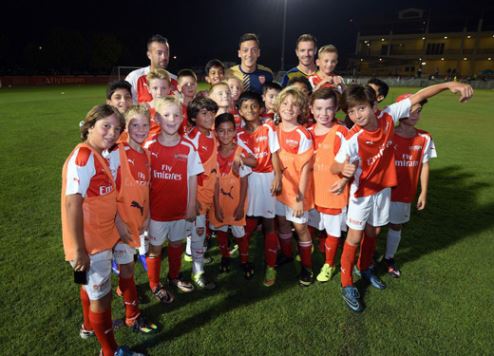 Arsenal superstar Mesut Özil took a special trip to Dubai last week, hosted by Emirates, to coach avid young footballers how to 'Play the Arsenal Way'.
The talented German midfielder, known for his finesse on the field, visited kids at Arsenal Soccer Schools Dubai (ASSD) at The Sevens sports ground, giving young trainees top tips.
The Arsenal star spent time on the pitch with up-and-coming footballers before joining them for a special group photo.
His young fans were also given autographed cards that were personally distributed by Özil, who also met with local and regional media.
Earlier in the day he arrived on the Emirates Arsenal A380 superjumbo, which was recently decked out with a decal of the club's crest as well as six players in action, fronted by Özil, and flanked by Alexis Sanchez, Aaron Ramsey, Santi Cazorla, Jack Wilshere and Olivier Giroud.
Clearly visible on both sides of the aircraft, the entire decal measures more than 360 square metres. With the Emirates fleet of A380s now visiting 40 destinations, fans from all over the world will both be able to fly and may even spot the Emirates' Arsenal A380.
Arsenal Soccer Schools Dubai launched in 2009 as a joint venture between Emirates and Arsenal, and is open to boys and girls of all ages and abilities.
Each year more than 1,200 children are taught how to 'Play the Arsenal Way', based on the same principles taught to the first team. 
The Arsenal Soccer Schools Dubai training programme is also designed to help aspiring young footballers develop their skills on the pitch, ensuring they have a platform to reach their potential.
It's all part of the Dubai Government's mandate to promote sports participation and events emirate-wide.
Emirates' Arsenal sponsorship dates back to 2004. In December 2012, the airline extended its relationship with the English Premier League Club until the end of the 2018/2019 season.