Emirates offers 'one of the best long-haul flights'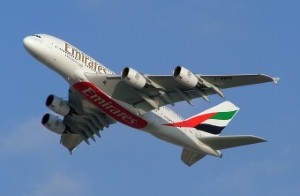 Dubai-based airline Emirates has been recognised as offering one of the best long-haul flight experiences.
The company came second in this category at the Telegraph Travel Awards 2014, which is one of the most comprehensive and reliable surveys of its kind. Singapore Airlines managed to win first place this year.
Emirates, now the world's largest long-haul airline by passenger kilometres flown, operates out of the globe's busiest multinational hub, Dubai International Airport.
Despite experiencing rapid expansion this year, the airline has been able to maintain its high standards and is now benefitting from a dedicated A380 concourse at the airport's Terminal 3.
The Telegraph Travel Awards were announced on December 8th and the ceremony was held at Banking Hall in central London. Charles Starmer-Smith, group head of travel, hosted the event, while awards were handed out by Sean Lock, the actor and comedian, who was the guest speaker.
Almost 90,000 people voted for their favourite companies and destinations, making it the most wide-ranging, comprehensive and reliable reader travel surveys in the world.
Emirates is not the only UAE-based airline to win awards recognising the high-quality service it offers passengers. Etihad Airways has recently scooped three prestigious travel accolades from two different award ceremonies.
The company received the top prize in the 'Best Long-Haul Airline' category at this year's Blue Insurance Travel Media Awards, while also being named 'Best Business Class Airline' and 'Best Long-Haul Airline' at the Irish Travel Trade Awards.
Etihad Airways also scooped the 'Best First Class' and 'Best Long-Haul Airline' prizes at the AirlineRatings.com awards. Geoffrey Thomas, editor-in-chief and publisher of the website, said the airline's commitment to excellence 'knows no bounds', and has become a major force and trendsetter in the industry since it was launched in 2003.
He said the firm's first and business class offerings were 'breathtaking', setting new benchmarks in luxury travel, adding: 'Etihad Airways has an uncompromising attitude to excellence. For the airline, only the best will do.'