Emirates named World's Best Airline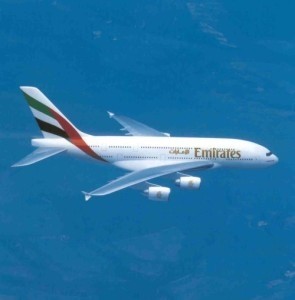 Dubai-based Emirates has received the World's Best Airline prize at the Skytrax 2013 World Airline Awards.
The company is one of the fastest growing carriers on the planet and scooping this prestigious accolade will enhance its status even further.
It also won the Best Middle East Airline gong for the ninth consecutive year, as well as the World's Best In-flight Entertainment award.
This particular prize-giving is highly respected throughout the aviation industry, as the winners are voted for by more than 18 million business and leisure travellers from across 160 countries.
Emirates has played a huge part in establishing Dubai International Airport as the second busiest on earth in terms of annual passenger numbers.
The firm continues to add new services to far-flung destinations, ensuring the UAE is one of the most accessible countries in the world. Last year alone, 39 million people flew with Emirates and many of these passengers would have spent some time in Dubai.
President of the organisation Tim Clark collected the awards at the recent Paris Airshow and he was delighted with the company's achievements.
"These awards are widely regarded as the industry's benchmark for excellence. For us, the awards clearly reflect a vote of confidence from global travellers, who acknowledge and appreciate our continuous drive to deliver high-quality service," he commented.
"To be voted World's Best Airline by millions of discerning travellers really is something for our 60,000 strong workforce to be proud of."
Aviation experts predict that Emirates will go from strength to strength in the coming years and this is good news for Dubai's tourism sector, as 66 million air passengers are expected to land at the main airport throughout 2013. This figure is likely to rise annually for the foreseeable future.
Not only is Dubai International expanding rapidly, but the city's second airport - Dubai World Central, otherwise known as Al Maktoum International Airport - is also set to launch passenger services for the first time in October 2013.