Emirates' message against illegal wildlife trade goes global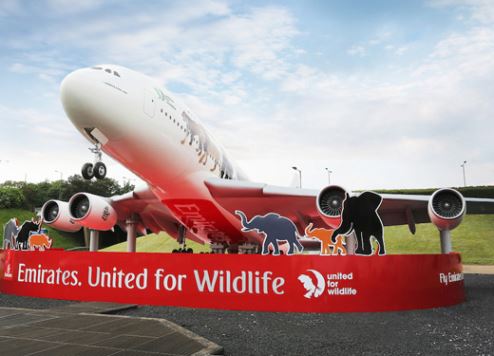 Emirates is on a mission to raise awareness about the threat that the illegal wildlife trade poses to the survival of some of the planet's most endangered and iconic animals.
The airline has therefore unveiled its fifth A380 emblazoned with special livery in support of United for Wildlife - an alliance between seven of the world's most influential conservation organisations and The Royal Foundation of the Duke and Duchess of Cambridge and Prince Harry.
Unlike its four jet-powered siblings, this latest Emirates 'United for Wildlife' A380 aircraft is featured in situ, at the traffic roundabout leading to London Heathrow airport – a highly visible site that is seen by more than one million international travellers and their families and friends annually.
One of the world's largest aircraft replicas, the Emirates A380 model at London Heathrow's roundabout is built to an exact 1:3 scale of a real A380 aircraft. Weighing more than 45 tonnes, the model is the same size as a real Boeing 737.
Over the past six months, Emirates has literally taken its message against illegal wildlife trade to the skies and across the world.
Since November, the airline's four eye-catching 'United for Wildlife' A380 aircraft have flown more than 4.2 million kilometres on over 800 flights, delighting customers, global travellers and plane spotters in 34 cities spanning five continents.