Emirates Hills and Palm Jumeirah prove popular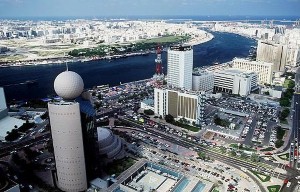 It is certainly no secret that the impressive recovery of Dubai's property market has been driven by the huge demand for villas and apartments in the most exclusive parts of the city.
A number of recent studies have reiterated the fact that places like Dubai Marina and Downtown Dubai are extremely popular among property investors, with real estate in these areas selling at a premium.
New figures released by Reidin.com and shared exclusively with Emirates 24/7 have shown that real estate traders were particularly keen to secure new buildings in the upmarket Emirates Hills and Palm Jumeirah in the second quarter of 2013.
In fact, the ten biggest villa deals of the three-month period all involved these two destinations.
The most expensive transaction was for a property in Emirates Hills, which sold for an eye-watering AED 67 million (£11.8 million) The deal was lodged with the Dubai Land Department (DLD) on June 9th.
This worked out at AED 2,692 per square foot and was double the price of the most expensive villa sold in the first quarter of 2013 - a sure sign that the property market has gone from strength to strength this year.
Emirates Hills accounted for the top three costliest purchases in the second quarter, with two other villas selling for AED 54 million and AED 39 million respectively.
As you would expect, the majority of Dubai property sales so far this year have been completed by cash buyers - a trend that is likely to continue as more high-net-worth individuals flood into the emirate.
Earlier this month, the DLD's Valuation Committee confirmed that it had been exceptionally busy throughout 2013. Indeed, the organisation stated that it valued 2,388 properties in the first half of 2013 alone.
The soaring demand for accommodation across the city has given developers the confidence to launch a flurry of ambitious new projects and judging by recent buying patterns, it will not take long for these buildings to get snapped up by investors.