Emirates expands free in-flight Wi-Fi offering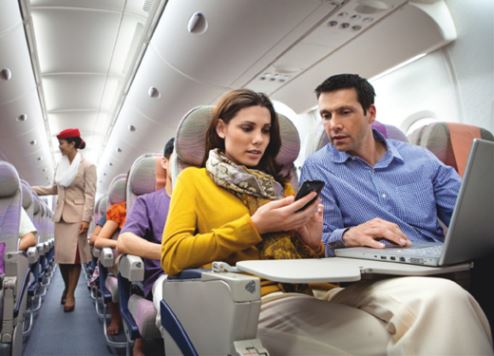 Emirates Airline has expanded its popular free in-flight Wi-Fi service with generous rates for all flyers.
All Emirates Skywards Platinum and Gold members are now offered free, unlimited Wi-Fi access during their Emirates flight, regardless of their class of travel.
This privilege also applies to all Emirates Skywards members travelling in First and Business class. 
In addition, Economy class customers and non-Skywards members can now enjoy 20MB of free data usage within the first two hours of log in, which is double the 10MB of free data currently offered. 
Additional data can be purchased in 150MB or 500MB blocks at attractive rates, with tiered discounts for Skywards Silver and Blue members.
"Emirates has made significant investment in its in-flight connectivity," said Adel Al Redha, vice president and chief operations officer at Emirates.
"Today, Wi-Fi services are available on more than 200 of our aircraft, and it is a service that Emirates continues to subsidise heavily. In-flight Wi-Fi usage, already popular from the start, has grown tremendously. Our new inflight Wi-Fi plans reflect Emirates' commitment to continue providing this as a free service for as many customers as possible, especially to our most frequent flyers."
The doubling to 20MB of free data will suit customers who are light Wi-Fi users looking to send short messages to their families and friends, or check their social media accounts while flying.
Business travellers or more heavy users of in-flight Wi-Fi will have the flexibility to purchase additional data packages as needed.
Dubai's ground transport is also expanding Wi-Fi availability for passengers with the city's Roads and Transport Authority (RTA) recently revealing that 700 additional taxis will soon be installed with interactive screens and free Wi-Fi.
The second phase takes the total number of cabs with this technology to 1,314, or 26 percent of Dubai Taxi Corporation's (DTC) total vehicle fleet.
Dr Yousef Mohammed Al Ali, chief executive officer, DTC, said that adding 700 taxis under phase II of the project further promotes the transport and innovation technology in Dubai.
These smart touch screens enable users to browse promotional adverts of RTA services, and inform passengers about key tourist destinations in the emirate, he added.