Emirates adds new flights between Dubai and Bangkok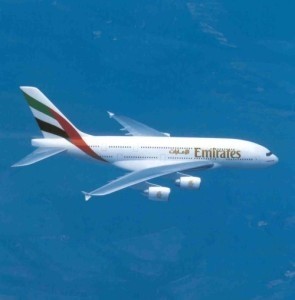 Emirates continues to respond to the soaring demand for flights to Dubai by adding new services to its schedule.
The carrier offers flights to more than 130 destinations worldwide and is largely responsible for the incredible growth of Dubai International Airport - which was recently confirmed as the second largest aviation hub on earth in relation to annual passenger numbers.
Now, the airline has introduced a sixth daily service between the emirate and Bangkok.
The non-stop flight will launch on October 27th 2013, allowing an extra 274 people to travel between the two highly-popular destinations every day.
Thailand is a crucial market for Emirates - a point emphasised by Barry Brown, divisional senior vice president of the firm's commercial operations in the region.
'Emirates' sixth daily service to Bangkok launches on the same day as the start of our second daily Airbus A380 service to the city, demonstrating the importance of Thailand to the airline,' he remarked.
'Due to passenger demand, we have seen a steady increase in terms of services and capacity on our Southeast Asian routes.'
Mr Brown added that plans are in place to launch new flights to Hong Kong in October, while a non-stop service to Clark in the Philippines is also in the pipeline.
Dubai International Airport reported an 18.9 per cent upturn in passenger traffic in May when compared with the corresponding month in 2012 and Dubai Airports - the organisation that runs the facility - hailed the expansion of Emirates and flydubai in particular.
The company also highlighted which destinations performed the best throughout the month.
It outlined an 87.3 per cent year-on-year increase in visitor numbers from eastern Europe in May, while the amount of people flying into Dubai from Australasia was up by 45.6 per cent.
As expected, there was also strong growth in the Asia-Pacific market, with passenger traffic rising by 29.5 per cent. The country that provides the most travellers to Dubai is India.