Eid tourists boost Dubai's businesses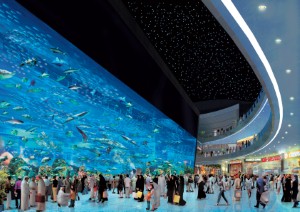 The number of people visiting Dubai to celebrate Eid is providing a boost for the emirate's businesses.
Tourists are flocking to the area from across the UAE, Gulf and beyond to enjoy the holiday and are making the most of the retail and hospitality services on offer.
Peter Smith, a South African visitor, discussed why he chose to come to Dubai with the National.
'I'm really enjoying the atmosphere here. I decided to make a short break because the prices are pretty reasonable at the moment and I'm glad I did. Everyone is in a festive mood,' he stated.
Meanwhile, a worker at Go Sport in the Dubai Mall commented on how more people are shopping during Eid.
'There's a big difference between today (July 28th) and during Ramadan. People are in a good mood and I think that is encouraging them to make some impulse buys,' they told the news provider.
It is no surprise that tourists are taking the holiday as an opportunity to head to Dubai's malls and shopping centres, as the emirate is widely regarded as one of the best places in the world for retail. It was recently voted the top location on the globe for shopping by TripAdvisor, while CBRE has ranked it the second most important city in the world for retail.
Visitors to the emirate have also been discussing their experiences with gulfnews.com. Mutib Khalid, who has journeyed to Dubai from Saudi Arabia, said he enjoys the unique experience available in the emirate and the range of events that are taking place specifically for Eid.
Meanwhile, local TV celebrity Uma Ghosh Deshpande told the news provider she thinks Eid celebrations in Dubai are among the very best in the world.
Unsurprisingly, the influx of Eid visitors has been good news for the emirate's hotels, with reports revealing occupancy rates are extremely high throughout the city.