Efforts to promote new Dubai brand ramp up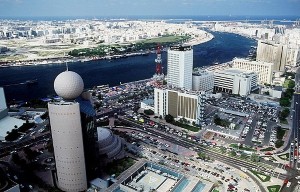 Numerous organisations in Dubai are going to lengths to promote the emirate's new brand.
Launched at the recent Arabian Travel Market, the Dubai City Brand has been established in order to allow a number of the emirate's governmental bodies to speak with a single clear voice.
It is hoped this will help to promote Dubai as an ideal destination for tourism and a perfect place to do business for a number of different industries.
The brand has now been adopted by The Roads and Transport Authority (RTA), which will display it on all public transport vehicles, ticket machines and passes. A number of licence plates bearing the logo will also be in use.
Moaza Saeed Al Marri, director of the RTA's marketing and corporate communication, stated: 'Being among the leading service providers in the Emirate of Dubai, the RTA is always keen on leveraging its vital role in providing all sorts of support to the prudent government of Dubai.
'The new Dubai Brand is set to play a pivotal role in promoting the emirate in various tourist, service, financial, and business sectors … and will definitely cement the profile of Dubai as a reputed regional and international hub.'
The Dubai City Brand features a distinctive logo, which spells out the word Dubai using both the Arabic and Roman alphabets - a design that has been selected in order to demonstrate the emirate's diversity.
From an investment perspective, projects such as the new brand are welcome as it should help to increase the number of people visiting the emirate.
It has been well publicised that the government of Dubai aims to attract 20 million people to the city every year from 2020 and the brand is part of a wider programme of developments currently underway to ensure this ambitious target is achieved.
For example, this month has seen Dubai's Department of Tourism and Commerce Marketing (DTCM) launch a new mobile app in a bid to improve the visitor experience and attract more people to Dubai.