Efforts to make Dubai 'the next capital of boxing'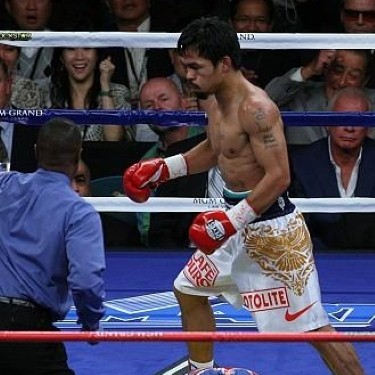 Dubai aims to be the best city in the world in every aspect and sport is certainly no exception. 
The emirate already hosts prestigious events in golf and tennis, while the world's leading football teams are increasingly choosing the city as a location to host exhibition games.
Now, plans are afoot to ensure Dubai becomes the "next capital" of boxing. M Akbar Muhammad, president of US-based Akbar Productions, told Emirates 24-7 the emirate is set to host a contest between two of the sport's biggest names.
Mr Muhammad revealed he is planning for Filipino star Manny Pacquiao, who was recently defeated by Floyd Mayweather in one of the most high-profile fights of all time, to compete in Dubai at some point in 2015. He highlighted English boxer and Olympic silver medallist Amir Khan as a likely opponent.
"For the last several years, people have been saying 'we are going to do a fight in Dubai'. It has never happened. You had a couple of guys doing fights here but nothing on the big level," Mr Muhammad told the news provider.
"I want to work from this side to make sure that Pacquiao is coming or if Khan is coming here, that the opponent is worthy of the status of Dubai," he added.
Mr Muhammad revealed he was in Dubai to watch the contest between Mayweather and Pacquiao, which had been dubbed the 'fight of the century' in its build-up. He revealed he was impressed by the emirate's interest in the sport and saw clear signs that the city is an ideal location to host a prestigious event such as this. 
Whoever ends up fighting in Dubai, the contest is sure to attract plenty of visitors to the emirate's shores.