DXB's Concourse D welcomes 16.6 million passengers in first year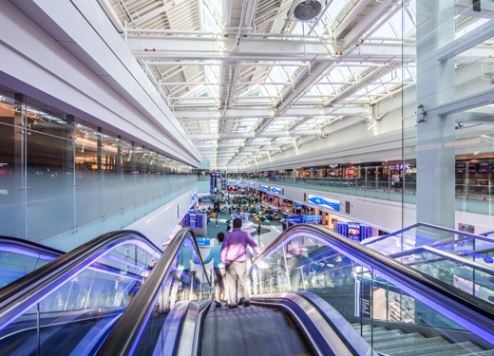 Dubai International's new state-of-the-art Concourse D has welcomed more than 16.6 million passengers during its first year of operations, according to operator Dubai Airports.
The facility, which offers a "customer-friendly design and a top-flight retail and food and beverage offering", marked its first anniversary on February 24.
Concourse D represents the final major piece of infrastructure to be built at DXB as part of the $7.8 billion Strategic Plan 2020 programme.
The $1.2 billion (4.4 billion AED) facility is now home to 60 international airlines that use DXB's Terminal 1, connecting it to 90 destinations around the world.
It has increased the annual capacity of the airport from 75 million to 90 million passengers.
"Concourse D is the outcome of a well-designed and meticulously planned project that was built around the evolving needs and expectations of our customers – the hundreds of thousands of passengers that pass through our airport every day," said HH Sheikh Ahmed bin Saeed Al Maktoum, chairman of Dubai Airports; president of the Dubai Civil Aviation Authority; and chairman and CEO of Emirates Group.
"After a successful first year of operations, it is very clear that Concourse D has achieved its goal of delighting our passengers and our business partners."
During the first year of its operations, Concourse D handled 115,118 flights and welcomed an estimated 16,686,272 passengers from destinations across six continents, while setting new customer service standards.
Over the past year, Concourse D has exemplified Dubai Airports' commercial strategy to design and deliver an integrated environment featuring walk-through retail, adjacent food and hospitality concepts, a comfortable central atrium and investment in the world's best airport Wi-Fi.
It has also been a showcase for Dubai Airports' special events having hosted numerous musicDXB performances and Hang Out DXB engagements designed to surprise and delight passengers with prize giveaways, special discounts and interactive games all of which serve to heighten the customer experience.
The new concourse has delivered an upgraded lounge experience with nine lounges spread over 6,926m2, including five airline lounges (British Airways, Lufthansa, Qatar Airways, Gulf Air, SkyTeam) a new Al Majlis lounge, two Dubai International Hotel lounges and a Marhaba VIP lounge.  
Concourse D also features more than 3600m2 of food and beverage options that cater to all tastes and budgets. That includes a number of world renowned brands that were introduced to Dubai and the region for the first time when Concourse D opened its doors – including celebrity chef Wolfgang Puck's The Kitchen and the first Pret a Manger to operate in a Middle Eastern airport. 
The retail offering has also been positively received, with Dubai Duty Free operating 175 vendor installations in Concourse D.