DXB reveals the big picture – from space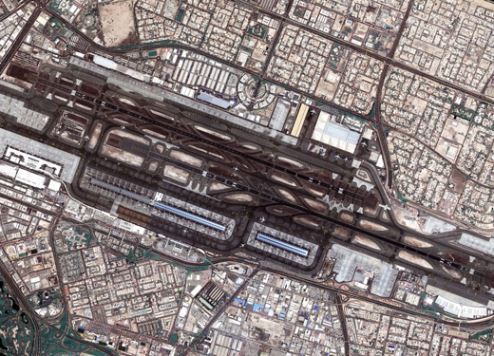 Dubai International (DXB), the world's busiest airport for international passenger traffic, has been photographed from space.
The image (pictured), reveals the full scale of this rapidly expanding aviation hub, which with the recent addition of Concourse D, now has the capacity for 90 million passengers annually.
Operator Dubai Airports has released the satellite image, courtesy of Mohammed Bin Rashid Space Centre (MBRSC), as it announces plans to further boost capacity at the facility to 118 million passengers annually by 2023, without the need to build additional infrastructure.
The airport operator recently unveiled a new programme it has dubbed DXB Plus, as part of its revised masterplan.
DXB Plus will boost throughput and enhance service through the design and implementation of customer-centric processes and the application of smart technology.
"The focus of DXB Plus is to integrate the sector's efforts to meet airline demand and ensure a world-class customer experience from 'cloud to curb' – vital for delivering unconstrained sector growth," explained Dubai Airports CEO Paul Griffiths.
"As part of the overall SP 2050 Strategy, DXB Plus will enable the unconstrained growth of Dubai's aviation sector until the mid-point of the next decade, when the next phase of Dubai World Central is targeted for delivery.
"Its primary aim is to provide capacity for 118 million passengers in 2023 – without adding any additional infrastructure – while delivering an exceptional customer experience."
He added: "In many ways, DXB Plus will facilitate the smooth transition to Phase 2 of Dubai World Central, which will be the world's biggest and best airport."
More than 350 projects designed to enhance capacity and customer experience are planned under DXB Plus.