DXB passenger traffic grows in October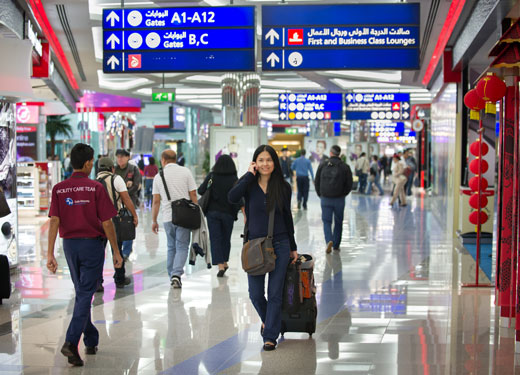 More than 7 million passengers travelled through Dubai International Airport (DXB), putting the world's largest international air hub on track for another record year of growth leading into the final months of the year.
Total passenger numbers were up 2.1% year on year in October, bringing year-to-date traffic to 74.5 million (+1.5% compared to the same period in 2017).
Flight movements rose 2.2% to 33,988 while the average number of customers per flight increased slightly (0.5%) to 214.
India was once again DXB's top destination country by customer volumes, with total traffic reaching 999,771 during the month.
The United Kingdom ranked second with 502,890 passengers, followed by Saudi Arabia with 444,803 passengers. Other key growth markets included the United States (231,688 customers) and China (200,765). North America also ranked as the fastest growing region with 14.4% growth, followed by Africa (+9.8%) and CIS growing (+8%).  
The top three cities by destination were London (302,139 passengers), Mumbai (204,753) and New Delhi (184,669). 
 The news follows on from a bumper third-quarter performance at Dubai World Central (DWC), Dubai's second international airport. Helped on by an increase in flights and seat capacity, passenger traffic at DWC surged 26.1% in the three months to September.
DWC welcomed 119,000 customers during the period bringing the total number of passengers who used the facility to 637,176. 
According to a statement issued by operator Dubai Airports, the outlook for passenger traffic at DWC in Q4 "is positive thanks to the seasonal rush of tourists typically seen during the winter months, as well as the launch of new services from scheduled and charter carriers".
The operator cited the launch of daily scheduled services between DWC and Moscow by Aeroflot as further evidence in support of its positive forecast for the final quarter of the year.