DXB aims to boost stopovers with new DXB tourist attraction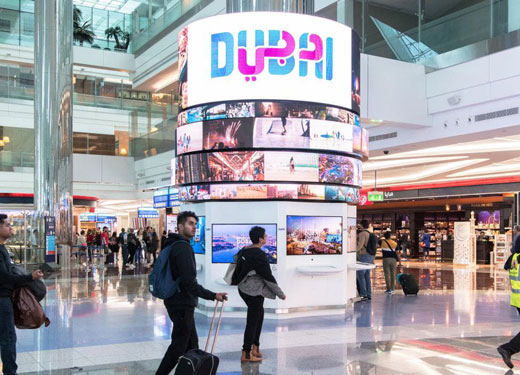 Dubai's Department of Tourism and Commerce Marketing (Dubai Tourism) is ramping up its efforts to increase the number of stopover visitors to Dubai, with a new interactive installation at Dubai International Airport (DXB).
The high-tech interactive video wall comprises LED tiles that are positioned to create five 360-degree rings, each of which displays multimedia content including photos, social media posts and other user-generated content.
Positioned beneath the five rings are an additional seven 55-inch curved OLED screens and seven 22-inch touchscreens, which are designed for individual users.
The installation, which measures 6 x 4 metres and is located at Concourse A in Terminal 3, enables transit passengers at the airport to 'virtually' explore the city and its various attractions. The system even creates and emails users a detailed sample itinerary based on their interests and preferred experiences.
Branded 'MyDubai Experience' the initiative is designed to lure just some of the millions of airline passengers who transit through the airport each year to enjoy a stopover in the city. More than 88 million passengers used DXB in 2017/18, which was a new record for the airport.
Commenting on the initiative, Issam Kazim, CEO of Dubai Corporation for Tourism and Commerce Marketing (DCTCM), said: "Dubai International is the world's busiest airport for international passengers, and with millions of travellers transiting in Dubai every year, there is a huge market waiting to be tapped.
"Our aim is to encourage these passengers to enjoy an extended stopover in Dubai, to exit the airport and experience the city. We want them to view their transit in Dubai not as an unwanted delay in their travels from A to B, but as a fantastic opportunity to add value to their journey. The MyDubai Experience is the perfect way for them to get a glimpse of all that's possible in this great city, no matter what their budget or interests, helping them to realise that a stay here – even if only for a day or two – truly is an opportunity they won't want to miss."