DWTC set for record year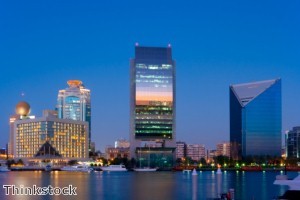 The Dubai World Trade Centre (DWTC) is expecting 2013 to be a record breaking year.
It has already enjoyed a successful first half of the year and is not showing any signs of slowing down as - in the last quarter of this year - it will hold 37 more events.
DWTC is well known for hosting a variety of conferences and exhibitions, showcasing the business and tourism opportunities within Dubai. It is something for hotels and investors to keep watch over, as these events often increase foreign activity in the city.
Senior vice-president for venues at DWTC Ahmad Al Khaja said: 'The exhibition season is a key pillar of the UAE's thriving economy and a major contributor to the UAE's tourism industry generating an influx of visitors to the country. The events scheduled for the remainder of 2013 are expected to greatly increase footfall to DWTC. This will bring a positive outcome for the economy of Dubai, as its role as the economic hub of the region is further solidified.'
Upcoming events include the Dubai International Motor Show, taking place as part of the Dubai Motor Festival on November 5th-9th. This is a biennial event which is proving more popular each time - 2013's occasion is said to be 35 per cent larger than the previous event in 2011. In just five days it will show off 600 vehicles.
It will take place alongside other parts of the festival not occurring inside DWTC, but nonetheless adding to the emirate's growing status as a hub for entertainment. For example, the Red Bull Middle East Car Park Drift Championships, also featuring the regional finals for its King of Drift contest, and the Dubai Car Parade are scheduled.
Between November 25th and 28th, the centre will host the Big 5 construction exhibition. This event is the largest for the industry in the Middle East, highlighting the importance and focus Dubai has on the building industry. Over 2,500 exhibitors are expected from 65 different countries alongside at least 60,000 industry figures.