DWTC 'pushing for more events'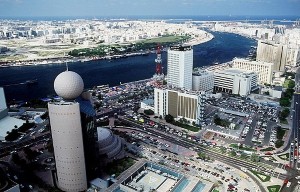 Dubai World Trade Centre (DWTC) wants to expand its presence in Dubai's events market.
Specifically, it wants to cater for various occasions, held both in and outside of its own facility, WAM reports.
The announcement comes after DWTC helped deliver this year's Dubai Airshow, its largest off-site occurence to date. This started through an agreement with the show's organiser F and E Aerospace, in a contract running for five years and covering three airshows and one instance of the Middle East Business Aviation Association.
DWTC's vice president for hospitality Mohammed Al Jumairi said: 'This was truly an end-to-end catering contract, fully utilising both our vast facilities and resources onsite at DWTC and at the show venue to clearly demonstrate the depth and breadth of our service offering.'
During the airshow, the hospitality division had to provide food for over 105,000 people, involving more than 60,000 visitors and 1,000 exhibitors. In total, it created 63 tonnes of food with a team of 1,000 staff, including 235 chefs.
More than just food, DWTC's expansion will influence other areas of the hospitality sector. More visitors to the emirate will need somewhere to stay, providing additional revenue to the already substantial hotel business available. Given the wealth of those attending various fairs throughout the year, luxury accommodation such as Dubai Marina will benefit from these more exclusive tastes.
The centre's announcement comes after director general of Dubai's Department of Tourism and Commerce Marketing (DTCM) Helal Al Marri said he wants to make the city a global destination for shows.
He said: 'Events are very important to us, not only with the local benefits they bring, but also as they show other countries what we are doing here in Dubai.'
Between DWTC and DTCM's goals, one can see a clear push to provide more entertainment and exhibitions in the city. The former already hosts many shows throughout the year and is currently home to Dubai International Jewellery Week.