Dubai's World Trade Centre crosses 2m visitor threshold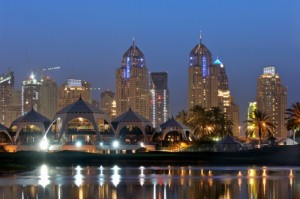 Dubai's World Trade Centre (DWTC) welcomed over two million visitors through its doors last year.
This is the first time the number of people attending business events has crossed this threshold in the building's history. In total, it hosted 373 meetings, incentives, conferencing and exhibitions (MICE) programmes throughout 2013, a rise of 302 against the previous year.
According to the latest figures, the World Trade Centre attracted exhibitors from 130 different nations, while some shows welcomed upwards of 100,000 people. Such events included the GITEX Shopper, which debuted a new spring event.
Officials stated the strong performance could be attributed to its three-year focus on investing in high-quality trade projects across a wide range of industries, including ICT, finance and logistics. In addition, the results were said to be a reflection of a stabilising global economy, alongside the growing strength of domestic markets.
Throughout last year, DWTC registered nearly 40 per cent international participation, showing the centre's growing collaboration between the city and event organisers to maximise their efforts to reach a more widespread audience. Meanwhile, the venue attracted several associations during 2013, most notably the SWIFT International Banking Operations Seminar.
In addition to business meetings, the centre witnessed a 59 per cent rise in across its entertainment and live event portfolio. A total of 54 consumer-facing functions welcomed over 631,000 guests, including the Dubai Sports Week and the inaugural Dubai Music Week.
Helal Saeed Almarri, director-general of the Dubai Department of Tourism and Commerce Marketing and chief executive officer of DWTC, commented: 'We operate in an extremely competitive global and regional MICE environment. To retain Dubai's positioning as a global hub for regional networking, government entities, public sector stakeholders and all our international industry partners must continue to work together.'
Mr Almarri added the centre has witnessed visitor numbers treble over the past ten years. He said this is in line with the emirate's tourism vision for 2020, outlined by Sheikh Mohammed bin Rashid Al Maktoum, the vice-president and prime minister of the UAE.