Dubai's World Expo 2020 'big opportunity for private sector'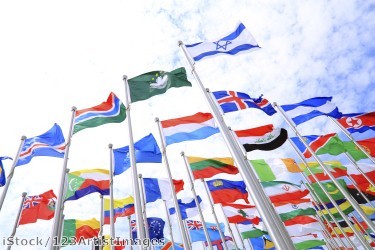 The World Expo 2020 will provide the private sector in Dubai with big opportunities, according to Sheikh Mohammed bin Rashid Al Maktoum.
He made this comment during a visit to the planned site of the event in Jebel Ali on Tuesday (April 21st), alongside 300 chief executive officers of foreign and Arab organisations.
Sheikh Hamdan bin Mohammed bin Rashid Al Maktoum and Sheikh Maktoum bin Mohammed bin Rashid Al Maktoum also visited the site during the meeting, which was held with the theme of expanding prospects of opportunities.
"I am present today at the Expo 2020 building site to have a meeting with the international and regional companies to discuss setting up effective partnerships, with the aim of making the global event a success," Sheikh Mohammed told the audience.
"Today, we have laid down our executive plans until 2020, which carry big opportunities for [the] private sector."
The meeting briefed top executives from national and international companies, as well as leaders of the business and finance community in Dubai to tell them of the benefits set to come from the emirate hosting the prestigious event.
During the gathering, Sheikh Mohammed said participants shared constructive ideas and proposals - all of which would work to create a common vision that portrays a civilised and humanised image of the UAE and its "beloved people".
He added that the suggestions made by the attendees would help the Expo 2020 achieve its goals: to stimulate local and global economies, and create job opportunities through mega projects that will be undertaken in the run-up to the event.
The government is set to invest more than AED30 billion (£5.4 billion) in new infrastructure, such as road networks, the Expo site and a metrolink, between now and 2020.
It is estimated that the event will boost Dubai's economic growth by 0.5 percentage points every year for the next five, according to a report from the Bank of America and Merrill Lynch.