Dubai's traders 'increasingly positive about 2014'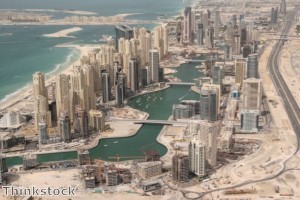 Dubai traders are experiencing an increasingly-positive outlook for the year ahead.
A study by the emirate's Chamber of Commerce revealed the average expectation rating for 2014 rose to 6.5 points on a scale of one to ten. This represents the highest level of confidence witnessed in the past five years.
The report, entitled Dubai Traders Outlook Survey 2014, found this year's increase was a rise of 0.5 points when compared to 2013. Statistics showed optimism has rose steadily since it dropped to 5.7 back in 2011. 
According to the Chamber, 60 per cent of traders expected market demand in their industry to be positive during the coming year. This is compared to just six per cent who felt the situation would worsen. 
Businesses involved in the trade of machinery, industry inputs and vehicles were the most confident, expecting much higher expectation levels for trade performance in 2014. Perhaps not surprisingly, larger organisations seemed to be the most bullish.
Meanwhile, sales levels are also projected to rise, with many firms citing the decision to make Dubai the host city for Expo 2020 as a catalyst for this. Indeed, 51 per cent of those questioned in the study stated they expected the event to have a positive effect on transaction numbers.
The president and chief executive officer of Dubai Chamber, Hamad Buamim, stated the emirate's foreign trade levels recorded an annual growth rate of ten per cent. This upward trend was expected to continue for years to come, thanks to the continuous development of new infrastructure and unparallelled levels of government support. 
He added in order to further enhance Dubai's competitiveness, business leaders wanted to see a reduction in the cost of utilities and port services, more comprehensive financial support and reliable market information. The government was also called on to lower the price of visa issuance.
The latest survey is part of a series of national studies undertaken by Dubai's Chamber of Commerce over the last five years. It is designed to measure the expectations of traders over the coming 12 months.