Dubai's smart skyline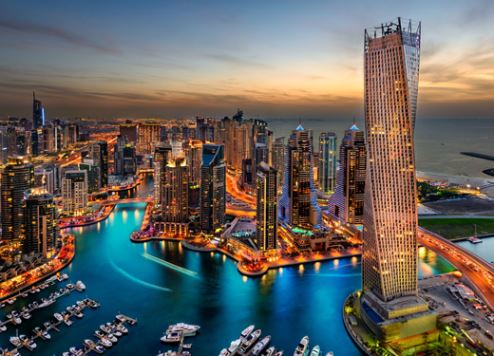 The emirate's skyscrapers, hotels, airports, hospitals, retail facilities and residential buildings incorporate more smart technology than most other Middle East cities, a new report reveals
Dubai is one of the Middle East's leading cities for 'smart' buildings, according to a new survey conducted by global technology firm Honeywell.
The Honeywell Smart Building Score, a first-of-its-kind global index designed for the comprehensive assessment of any building, was used to evaluate 620 buildings across seven major Middle East cities - Abu Dhabi, Dammam, Doha, Dubai, Jeddah, Kuwait City and Riyadh.
The survey, developed with researchers Nielsen and global advisors Ernst & Young, assessed airports, hotels, hospitals, office and residential buildings along with educational and retail facilities.
The average smart building score in the Middle East was 48 out of a possible 100, but Dubai exceeded this average with a total score of 65, second only to Doha, which achieved an average building score of 70. Abu Dhabi came third, with a score of 48.
"Doha and Dubai lead the region in terms of their smart building capabilities across all three categories of Green, Safe and Productive," reveals the Honeywell report.
"This is largely attributed to the presence of strong building regulations in both cities; past and present," it says.
This focus on buildings codes, which is crucial to creating and maintaining smarter buildings, says Honeywell, has positive ramifications for the Gulf's future development plans.
"The survey results show that the region is well on its way to achieving its smart city goals, with Dubai, Doha and Abu Dhabi in particular serving as great examples for the region," explains Pete Costa, vice president, Honeywell Automation and Control Solutions for the Middle East.
In terms of which types of buildings ranked the smartest, the region's airports came out top with a score of 80, followed by hotels and hospitals in second and third place with scores of 57 and 56 respectively.
Connectivity, communications, systems integration and safety were the 'smartest' features of the Gulf's airport terminals and facilities, driven by investment in security and surveillance, according to Honeywell.
The top-performing airport was not listed in the report, but Smartworld, one of the Middle East's top system integrator and digital ICT providers, says the UAE airports are leading the way in terms of smart technology adoption.
Smartworld has implemented unique state-of-the-art ICT systems at both Dubai International Airport and the new Al Maktoum International Airport at Dubai World Central (DWC).
Building smart airports is just one facet of the Smart City Initiative pioneered by His Highness Sheikh Mohammed Bin Rashid Al Maktoum, UAE Vice President and Prime Minister and Ruler of Dubai, who wants to ensure the emirate ranks amongst the world's best-connected and smartest cities by 2017.
This initiative has three key areas: smart economy, smart life and smart tourism. Focus areas are mobility, energy, water, waste, solar power, smart grids, e-government initiatives, connectivity, and automation.
As far back as 2011, the Dubai Municipality enacted the "Green Building Regulations & Specification in the Emirate of Dubai" in alignment with its Strategic Plan 2015.
These became immediately mandatory for government bodies and optional for private developers.
In line with the city's commitment to become a world leading 'green' city and to make Expo 2020 an environmentally sustainable event, Dubai Municipality issued a circular, making the existing Green Building Regulations and Specifications mandatory for the private sector as of March 1, 2014. The Green Building Regulations apply to all buildings in the city, including those in free trade zones. Affected buildings are categorised into one of four fields: villas, public, residential/commercial, and industrial.
Honeywell explains that smart buildings "drive economic and environmental benefits, protect human life and building assets and are the fundamental building blocks of a smart city".
"Buildings today no longer serve solely as physical structures to shelter their occupants. They increasingly define the quality of life of the people that live and work within them. They stand testament to societal challenges and achievements over time," says the company.
"In the GCC, the next generation of buildings will reflect contemporary global as well as regional challenges. This will include measures to conserve natural resources, and meet rising security and productivity needs.
Many GCC government initiatives clearly indicate how the importance of smart buildings has moved up the agenda. Numerous related conferences such as the 'Green Schools' meeting in October 2015 by Kuwait, the Arab Future Cities Summit in November 2015 in Dubai or the Smart Grid Conference in December 2015 in Saudi Arabia demonstrate this."
Honeywell also notes that the region's upcoming mega events such as Qatar's FIFA World Cup 2022 or the Dubai Expo 2020 both have "substantial smart city components".