Dubai's Smart Palms 'to provide tourists with free Wi-Fi'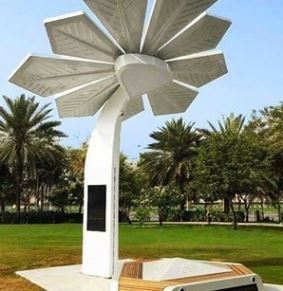 Dubai is to plant dozens of Smart Palms that provide tourists and residents alike with free Wi-Fi in certain locations, such as parks and beaches.
The stations, which were developed and created in the UAE, are six metres tall and resemble the palm trees that are dotted around the emirate.
As well as free Wi-Fi, they also come equipped with mobile phone charging docks and screens displaying information about local attractions.
The first Smart Palm was installed at gate six of Zabeel Park on Wednesday (April 22nd) and there are plans in place to fit more than 50 of them in other tourists hotspots around Dubai.
A joint venture, the project has been made possible through cooperation between the government and creators of the technology D Idea Media, Du, Sun Tab Solar Energy and Promo Tech Gulf Industry.
The Smart Palms initiative resonates with the UAE Cabinet's decision to make 2015 the Year of Innovation, as each station is solar powered, offers super-fast Wi-Fi up to a radius of 53 metres and can support up to 50 users at one time.
Furthermore, the phone-charging docks, which will help anyone with a mobile that is out of juice and needs to make a call or send a text, are able to top up a battery two-and-a-half times faster than a regular charger.
The screens fitted to each Smart Palm provide information about the weather, display local news stories, have a navigation system installed and can give users information about Dubai, including what events are on or where the best tourist attractions are. They even have a camera that can take selfies.
Dubai Creek Park, Al Mamzar Park and Al Barsha Pond Park are all set to get the new technology.
Commenting on the Smart Palms, Hussain Lootah, director-general of Dubai municipality, said that Dubai has developed an international reputation as a world-class destination of technology and innovation.
He added: "Through Smart Palm, the public will be able to benefit from free direct access to the internet while providing valuable public information covering a range of topics including weather forecasts and orientation guides.
"Most importantly, these structures are entirely self-sufficient thanks to their mono crystal solar panels, which provide up to 21 per cent efficiency."