Dubai's residential market becomes increasingly optimistic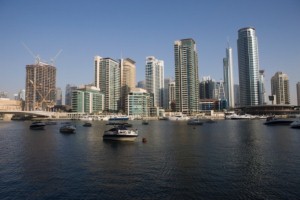 Dubai's residential market continued to grow in optimism during the first quarter of this year.
A new report by property consultants JLL found the emirate witnessed year-on-year prices rise by 33 per cent, while rental costs also increased by 23 per cent. Although the cost of housing has failed to reach the heights achieved in 2008 in most areas, the study showed other locations were already experiencing peak levels.
Statistics revealed that as of the first three months of 2014, there were 365,000 units of residential stock. Around 1,800 of these were handed over by developers during this period, including developments in Dubai Marina, Jumeirah Village and Business Bay.
The study suggested a further 24,000 properties will become available over the rest of the year in areas like Dubai Sports City, Silicon Oasis and Dubailand. It anticipated the majority of new construction projects will take place on the peripheries of the emirate, towards the south and east of the city.
Areas such as Mohammed Bin Rashid City, Business Bay and Dubailand are expected to contain the highest proportion of new housing, supported by a raft of new measures to improve infrastructure around Al Maktoum International Airport.
Over 39,000 new residential units are anticipated to enter Dubai's housing market over the coming years, representing a nine per cent increase when compared to today's stock. However, the report found a number of projects were likely to experience delays.
In addition, the study highlighted a shortage in the availability of middle-priced property. This is only expected to get worse, as demand looks set to rise further. Despite this, JLL suggested this provided an important opportunity for developers to deliver more units to cash in on the growing desire to own houses on the lower-end of the scale.
Meanwhile, the report stated a number of measures had been implemented over the past year to further regulate the property sector and help prevent a second bubble. These efforts are predicted to continue over the course of 2014, as the government tries to clamp down on the type of speculative activity which was rife in 2008.