Dubai's rental market to grow throughout 2014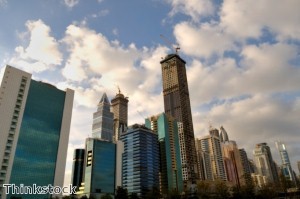 The rental market in Dubai is expected to continue growing throughout the coming year.
Research carried out by CBRE Middle East stated that although it is unlikely the emirate will witness similar price rises experienced in 2013, rent costs will inevitably go up until supply finally catches up with demand levels. According to Mat Green, head of research and consultancy at the firm, this is not anticipated to happen anytime soon.
Dubai's residential rents have already increased by 22 per cent year-on-year during the first quarter of 2014, with apartment prices rising by 29 per cent. Villas also enjoyed a jump of 15 per cent.
However, CBRE's study found quarter-on-quarter rates actually slowed down to 2.8 per cent in Q1. Apartments and villas rental costs increased by just three per cent and 2.6 per cent respectively when compared to the previous three months.
According to the report, the strongest areas for apartment growth included Sports City, Downtown Dubai, International City and Dubai Silicon Oasis. Al Warqa and Springs were named the most popular locations for villa rentals.
Mr Green stated that the only way prices would begin to come down completely would be if developers constructed enough new property to mean people would have a choice about where they want to move to. This goal is set to be helped by the fact that around 65,000 new residential units are expected to come onto the market over the next few years.
He added: 'The residential development pipeline is again starting to swell, with an ever-increasing number of new projects being launched. While this pipeline is still far smaller than witnessed during the last cycle, it is nonetheless something to monitor carefully in the coming years.'
Meanwhile, the report showed office rentals in the emirate also continued to rise, with the average price of prime space up three per cent quarter-on-quarter and 21 per cent year-on-year. The cost of property is now said to be around AED 1,830 (£297) per sq m per year and CBRE estimates this will only increase further over the coming years.