Dubai's property market 'performing well'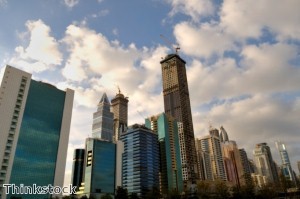 Dubai's property market continues to enjoy stability compared to other countries, which is encouraging an increase in the number of investors attracted to the emirate's real estate sector, according to recent industry news.
Despite some difficulties in the global economy, Dubai's real estate sector continues to flourish, leading the Global House Price Index from Knight Frank to label it as the world's hottest property market.
Khawar Khan, a research manager at Knight Frank Dubai, wrote on the company blog: "Dubai's strong economic conditions and buoyant labour market continue to attract foreigners in their droves. Since this rising population needs decent (and not always luxurious) accommodation, we expect demand to outstrip supply in the short-term."
It's not just Knight Frank that is praising the strength of Dubai's property market. Here are just a selection of the positive reports about the emirate's real estate sector that have been published recently.
Global Property Guide
Dubai has remained on top of the world's best performing markets for seven consecutive quarters, according to a new report from Global Property Guide.
The study has revealed that the emirate's real estate market is the only one in the world that has been invested in by 140 nationalities.
Back in 2008, Dubai experienced one of the worst housing market crashes in the world, but since the second quarter of 2012 the sector started on the road to recovery, achieving double digit house price increases consistently.
Global Property Guide expects the UAE's economy to expand by 4.3 per cent in 2014, after achieving real gross domestic product growth rates of 5.2 per cent and 4.7 per cent in 2012, according to figures from the International Monetary Fund.
Knight Frank
Figures from the commercial property consultancy Knight Frank reveal that Dubai's property market is still undervalued in terms of price per square foot, ranking as a cheaper city to buy real estate in compared to 18 other cities, including London, Mumbai, Sydney, Singapore and Hong Kong.
The report notes: 'Strong economic conditions, a well performing labour market and prospects of loosening credit standards for buyers suggests that demand for prime residential property will see an uptick in the short-term.
'That, combined with the fact that very little is due to be completed in the prime segment over the next 18 months, points to luxury residential prices resuming their upward path in the second half of this year, before seeing a single-digit increase in 2015.'
The report referenced figures from the Dubai Land Department, which revealed that in the first quarter of 2014, 133 separate nationalities invested across the emirate's real estate market, with Indians remaining the top foreign real estate investors, spending close to AED5.9 billion (£1.03 billion).
British and Pakistani investors spend AED3.1 billion and AED2.4 billion, respectively. Overall, Emiratis invested the largest sum of money, accounting for AED7 billion, or 20 per cent, of the total investment.
CBRE Group
Dubai's residential property market experienced a period of relative stability during the second half of this year, according to commercial real estate firm CBRE Group.
The company's year-end market update reveals that the sales segment of the emirate's real estate sector has comprehensively outperformed the rental market, achieving an 18 per cent rise year on year.
Mat Green, head of research and UAE consultancy at CBRE Middle East, said the market continues to see strong occupier rates and investment demand for 'well located, good quality residential' accommodation.
'A fact backed up by recent transaction numbers in the established community locations', he added.
CBRE believes that a positive economic outlook combined with an increase in tourist numbers, a rise in capita income and changing consumer behaviour will work as a catalyst for growth in Dubai's real estate sector.
Posted by Bob Brunskill