Dubai's newest nightspot 'offers a dose of 1990s nostalgia'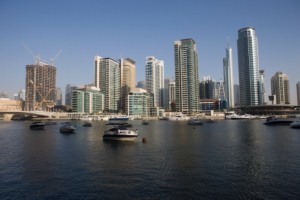 When heading abroad, people love the chance to let their hair down by having a drink and a dance - and that is exactly what Dubai's latest nightspot offers.
Time Out Dubai has published a review of the new Societe club, which is set in the heart of the city's marina. It explained the venue offers a welcome dose of the 1990s and, while it might be deemed to be cheesy by some, it provides an enjoyable and fun night out.
While some clubs and bars in the emirate might be focusing on house and urban DJs and bass-driven beats, it is the likes of Madonna, Belinda Carlisle and the Backstreet Boys who will be dominating the playlist at the new establishment.
One of the major benefits of Societe is that it offers something for everyone, which is why visitors are likely to find themselves mixing with large groups of middle-aged women on one side and hardcore party goers in their 20s on the other.
The club is described by Time Out Dubai as being 'reasonably intimate', so for anyone who likes their nightspots to be 'unpretentious, busy and unfailingly fun' it is sure to be perfect.
Of course, this is not for everyone, but Dubai is home to a huge number of venues and there is something to suit every taste. For those with a passion for 90s pop, there are few better options than Societe.
The decor of the establishment is interesting, as bosses have opted to deck it out to a 1950s domesticity theme. Features such as faux bookcase wallpaper have been added, with the review claiming some of the items 'wouldn't look out of place in your granny's sitting room'.
But it went on to note that, for some reason, it does actually work incredibly well and even creates a classy feeling to the interior.
Dubai is a great place for a party and visitors now have another venue to add to their itinerary.