Dubai's Metro attracts over 40.5m passengers in 2014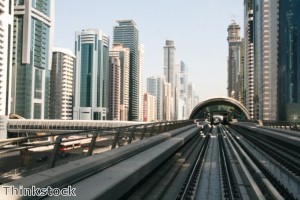 Dubai's Metro network has attracted more than 40.5 million travellers during the first three months of this year.
Figures announced by the Roads and Transport Authority (RTA) showed the number of people using the Red Line totalled 26.1 million between January to March 2014, compared to the 28.1 million recorded over the same period the year before. Meanwhile, the Green Line welcomed 14.5 million commuters, an increase of three million against Q1 2013.
Over the first three months of 2014, the study showed the number of trips made on the Red Line reached 30,400, compared to 26,359 experienced during the same period the year before. The Green Line witnessed 23,876 journeys, against 7,841 which took place in Q1 2013.
Abdullah Yousef Al Ali, acting chief executive officer of the RTA Rail Agency, stated: 'The number of riders during the first three months of this year constitutes a solid indicator that the Dubai Metro has become one of the prime transit means commanding the attention of residents, visitors and tourists.'
He added the rise in traveller numbers was testament to the work carried out by the authority to encourage all members of the community to use the network as their primary mode of transport. Mr Al Ali claimed the organisation remained committed to characterise the service by security, luxury and safety.
The report stated Deira City Station was the busiest transport hub on the Red Line, servicing 1.8 million passengers. Burj Khalifa came in second, while the Union Station and Al Rigga Station coming third and fourth respectively.
Meanwhile, Al Fahidi Station was named the most popular stopping place on the Green Line, welcoming 1,657,650 travellers. This was followed by Bani Yas Station, Al Ghubaiba Station and Oud Metha Station.
The RTA expected the Metro system to grow further in popularity over the coming months, especially as the directives issued by Sheikh Mohammed bin Rashid Al Maktoum, the vice-president and prime minister of the UAE, take effect. These initiatives include the transformation of stations into art galleries, which are designed to display the rich culture and heritage found in the emirate.