Dubai's Meraas seeks funding for Ferris wheel project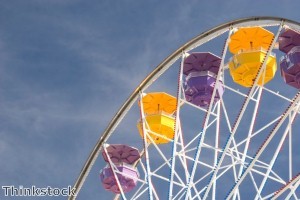 Dubai-based Meraas Holding is seeking AED860 million (£152.2 million) to construct a new project to attract tourists, which will include retail space and the world's largest Ferris wheel.
The firm, owned by Sheikh Mohammed bin Rashid Al Maktoum, is famous for developing ambitious real estate schemes and this one is no different, as architects are looking to build a 210 metre-tall wheel on a man-made island off the coast of the emirate.
Upon completion, the Dubai-I Ferris wheel will surpass the new Higher Roller in Las Vegas, which stands at an impressive 167.6 metres, making it the world's tallest big wheel.
The attraction won't stand alone, as it will be surrounded by restaurants, retail outlets and residential buildings, according to Meraas' plans. The loan the firm seeks will be used to build the encompassing area.
Arranged by Emirates NBD, the loan will have a ten-year term and amortising structure, with the deal expected to be completed by mid-March.
The giant Ferris wheel is just one of the mega-projects on the cards for the emirate, with Dubai Parks and Resorts announcing a theme park complex comprising of three separate developments with their own unique concepts.
Last year, the Tourism 2020 vision was unveiled for Dubai, with the emirate seeking to attract 20 million visitors every annually in five years' time. Developments such as the theme parks and giant wheel will help it achieve this goal, with people travelling purely to see these wonders.
In addition, events like the Dubai Shopping Festival and Gulfood are also doing their part to keep the tourism industry in the emirate healthy, with both luring hundreds of thousands of visitors who wish to take part in something unique to the area.