Dubai's JW Marriott Marquis opens second tower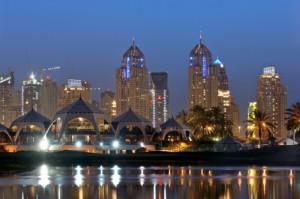 The JW Marriott Marquis Dubai has opened its second tower to guests.
Once fully operational at the end of the year, the new building will comprise of 804 suites and rooms. This will bring the total number of bedrooms to 1,608.
The development means the emirate is now home to the two tallest hotels in the world, as the second tower is completely identical to the first. Its sister building first opened in November 2012. They stand at an impressive 255 metres in height, just 26 metres short of the Empire State Building in New York.
In addition to the extra rooms, Tower 2 will have a new two-tier function space situated on the 72nd floor. Bosses believed it would attract a wide variety of clientele, thanks to the stunning view of Dubai's skyline. This new addition brings the hotel's total number of lounges and restaurants to 14. It also boasts a spa and 8,500 sqm of event space, including two ballrooms.
The JW Marriott Marquis Dubai is intended to cater for the luxury business traveller, as both the suites and rooms are decorated in a contemporary fashion and are extremely spacious.
Hotel manager Bill Keffer stated the new addition has come at an important time for Dubai, being that recent reports have predicted the emirate will welcome 20 million tourists each year by 2020. He added: 'In light of this we are confident our hotel is in a strong position to cater for the increased number of visitors, particularly because our conference and event facilities are equipped to host over 1,000 people to meet, dine and stay."
He added Dubai's enhanced place on the world stage will continue to draw in holidaymakers and also cited the emirate's Expo 2020 win as an important milestone for tourism.
Last year, the hotel won a total of 16 international industry and media awards, including accolades for its architecture, business and convention features, and restaurants.