Dubai's hotel sector continues strong performance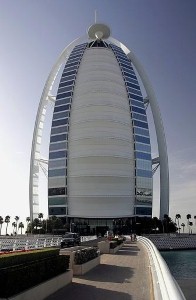 Dubai's hotel industry has maintained its strong performance during the first months of 2014.
Figures released by property consultancy firm JLL found occupancy levels in the year to February remained at 88 per cent, while average daily rates (ADRs) rose to $298 (£178). This was an increase of 7.7 per cent when compared to figures achieved during the same period in 2013.
These impressive results were said to have contributed towards the revenue per available room, which jumped by a further 7.7 per cent against prices recorded last year. In February, year-to-date levels reached $262.
Meanwhile, the study also found that during the whole of last year, the emirate's hotels saw an 11 per cent surge in the total number of guest nights, against levels witnessed in 2012. It revealed 41.6 million nights were spent in Dubai throughout 2013.
Over 11 million tourists were welcomed to the city last year, a rise of ten per cent when compared to 2012. JLL predicted this would continue to rise over the coming months, as the government aims to introduce a raft of new measures to encourage holidaymakers to visit Dubai and diversify the hospitality sector as a whole.
Airport traffic also rose last year, registering a 15 per cent increase compared to 2012 to reach 66.4 million. This strong performance continued into 2014, as 6.4 million passengers passed through the emirate's transport hubs in January, up another 15 per cent against result achieved during the same month in 2013. Indeed, Dubai International received a greater number of holidaymakers for the first two months of the year than the UK's Heathrow. If this continues, it could soon officially become the world's busiest airport.
The study found 2014 is expected to be another important year in terms of construction. A number of high-profile developments have already taken place, while further projects are expected to be completed over the coming months. Although the bulk of new additions will remain focused on upscale properties in the short-term, government initiatives could yet encourage builders to expand more into the mid-scale property sector later in the year.