Dubai's hospitality sector outperforms regional growth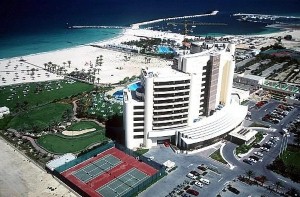 Dubai's hospitality industry is consistently outperforming growth levels seen in the local region.
A study by Ernst and Young (EY) showed the emirate witnessed a ten per cent rise in average room rates (ARR) at the beginning of 2014, compared to results achieved the previous year. This was despite the addition of almost 3,000 new hotel rooms.
The report found Dubai's hospitality market has successfully managed to absorb this extra capacity, allowing it to post an ARR of $337 (£200) in January 2014, up from the $308 recorded during the same month in 2013. This translated into a rise in revenue per available room (RevPAR) of 6.2 per cent.
Meanwhile, the study revealed occupancy levels for the beginning of this year dipped slightly when compared to 2013. The emirate recorded a rate of 87 per cent in January, a drop of 2.6 per cent. Despite this, figures in Dubai were still far ahead of the regional average.
Over the course of the last year, 2,780 new rooms within the four and five star hotel segments came on to the market. The report found the average daily rate (ADR) increased by 6.4 per cent against the previous 12 months, while RevPAR figures experienced a rise of 5.9 per cent to reach $223.
The performance of the emirate's hospitality market has improved month-on-month, with the average occupancy rate jumping by approximately five per cent. In addition, the ARR also surged from $305 in December 2013.
Yousef Wahbah, head of transaction for real estate at EY MENA, commented: 'These increases can be largely attributed to the peak tourism season in Dubai. January's mild winter weather, coupled with the high number of tourist attractions in the emirate, continues to draw visitors to Dubai over the winter months.'
EY's latest study is just the latest piece of positive news for Dubai's hospitality sector. A recent report by STR Global said the emirate was the only part of the Middle East and North Africa region that could witness a double-digit growth in ADR in January.