Dubai's GDP growth 'fastest in 6 years'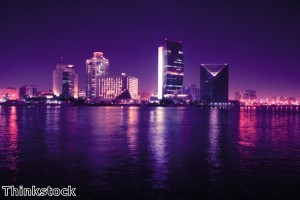 Dubai's gross domestic product (GDP) is growing at the fastest rate seen in the last six years.
Figures from the Dubai Statistics Centre show GDP rose by 4.9 per cent in the first half of the year, more than the four per cent upturn reported for the same period last year.
The two biggest sectors for growth were hotels and manufacturing, representing both the expanding tourism and business industries in the emirate.
Hospitality, including the likes of restaurants and accommodation, rose by 13.7 per cent in H1 2013, with hotel guest volumes going up 11.1 per cent to 5.6 million. There were also 58,950 available rooms, considerably more than the 4,729 seen in the first half of 2012.
Chief economist at EFG-Hermes Monica Malik said: 'Dubai is seeing an acceleration in a number of sectors, benefiting from increased investment and exports, including tourism.
'This is one of the highest growth rates. It shows that Dubai is the most credible city to host the World Expo and proves that it has achieved massive leaps against the global financial crisis to affirm the strength and solidity of its economy.'
The manufacturing sector was close behind hospitality, improving by 13.3 per cent. Other notable areas include wholesale and retail trade (up 4.1 per cent), property and business services (3.3 per cent), and transport, storage and communications (4.9 per cent).
An argument can clearly be made for the hotel industry as the sector with the most potential, far outgrowing other areas, even those with strong relations to tourism such as retail. As such, investing in the latest hotels, like Dubai Marina, can present some of the most lucrative opportunities.
Recent figures suggesting a growth in cruise ships visiting the city support this, and its clear to see the emirate has plenty to offer holidaymakers with various parks, shopping facilities and entertainment options available.
It also has its share of landmarks, including Burj Khalifa, the world's tallest building at over 800m tall. A new unnamed tower has also been announced and, while not as high as the nearby Burj Khalifa, the 369 m office and residential building will be one of the city's tallest.