Dubai's foreign trade to hit AED 4tn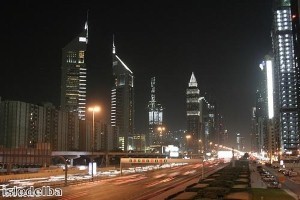 Expo 2020 will help Dubai's foreign trading reach AED 4 trillion (£649 billion).
The claim was made by Mahmoud Al Bastaki, chief executive officer of Dubai Trade, on the second day of the Annual Investment Meeting. He added the event will enable diversification by finding new paths for economic developments.
Leading up to Expo 2020, the government is expected to continue spending on new infrastructure. This is intended to encourage more business and investment to come not just into Dubai itself, but also the UAE as a whole.
News agency Zawya reports that new projects will be constructed across all areas of industry, increasing the demand for goods. Officials stated these factors will provide a significant boost to the overall trade market in the emirate.
The real estate sector is also predicted to witness large-scale developments, especially in the areas surrounding the Expo site and Dubai World Central (DWC). It is thought this would have a positive knock-on effect on manufacturing industries, such as wholesale trade, logistics and transport.
Construction and infrastructure spending in the UAE currently counts for 49 per cent of the total number of projects that have either been announced or are currently in the entire Gulf Cooperation Council. The total expenditure among these nations is valued at approximately $1.9 trillion (£113 billion).
Khalifa Al Zaffin, executive chairman of Dubai Aviation City Corporation, stated: 'Over the coming years we expect to see a surge in both commercial and residential investments which will be stimulating small and medium-sized enterprises as well as the services sector.'
He added that during Expo 2020, DWC will be transformed into a unique business and residential community. It will consist of separate districts for enterprises in a variety of different industries, such as logistics, hospitality, entertainment and humanitarian.
These are expected to attract considerable interest from local and foreign investors, resulting in the growth of Dubai's gross domestic product both during and after the Expo event.