Dubai's first tramway arrives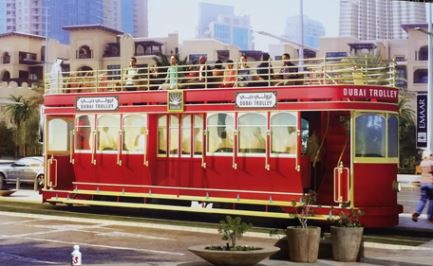 The emirate's first tramway - Dubai Trolley - has arrived and will be the region's first hop-on hop-off transport system. It features the world's first hydrogen-powered trams and is currently being tested before being opened to the general public.
Located on Mohammed bin Rashid Boulevard in Downtown Dubai, the tramway is sure to be hot among visitors - doubling as a tourist attraction and an efficient mode of transit.
It is currently being assembled on site and once construction is complete, testing will be undertaken to make sure there are no issues. Work on building stations for the tramway is currently underway and is so far on schedule.
The first phase of the project will connect visitors and residents to a host of places across the emirate and will pass other tourist attractions, including the Burj Khalifa, the Dubai Mall, the Dubai Fountain, Souk Al Bahar and Mohammed bin Rashid Boulevard.
Each double-decker tram will be painted red and gold with a green trim, and will be able to carry up to 74 passengers, who can choose from a seat in the open-air or an air-condition one inside the carriage.
The best part of the Dubai Trolley is that passengers will be able to choose where to get on and off, improving connectivity within Downtown Dubai and convenience for visitors and residents.
Located near Old Town Island, the new trolley terminus will feature food and beverage outlets, allowing passengers to grab a drink or bite to eat before they board or once they have gotten off. There are more stations in the pipeline - each will be appealing to the eye and air-conditioned to offer ultimate comfort to passengers.
Working in line with the theme for the World Expo 2020 - 'Connecting Minds, Creating the Future' - the tramway will be carbon-neutral as it is powered by hydrogen energy and electricity.