Dubai's Design District proves popular with designers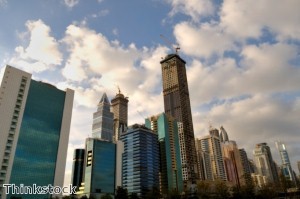 Dubai's Design District (d3) is exceeding expectations in the amount of interest generated by the scheme.
Construction on the business park is underway and once completed, the facility will be the new hub of the emirate's design, fashion and luxury industries. The project was announced last year by the vice-president and prime minister of the UAE and ruler of Dubai, Sheikh Mohammed bin Rashid Al Maktoum.
According to reports, over 500 expressions of interest have been registered, which officials state is a strong endorsement of the plans from the design sector. Meanwhile, dozens of licences have either already been approved or are being considered.
The first phase of development is scheduled to be completed by early next year, It will consist of 15.5 million sq ft of state-of-the-art offices and workshop spaces, at a cost of AED 4 billion (£655 million). Meanwhile, the second stage will include food and beverage outlets, shops and entertainment businesses.
Officials claim by offering round-the-clock services, d3 will contribute towards Dubai's Tourism Vision targets of attracting 20 million holidaymakers to the emirate and achieving visitor revenues of AED 300 billion.
The site, located minutes away from Dubai Mall, will also feature a one kilometre waterfront, international and niche hotels and a convention area. In addition, there will be residential properties, unique street furniture and shaded walkways.
Developers hope once completed, the project will prove to be a world-class community for creativity that will promote new regional talent. It is also anticipated to attract some of the world's leading brands.
In order to make sure the right facilities and infrastructure were in place at the site, expert opinion was sought from those in the design field. In this way, it is believed d3 allowed the industry to take charge from the outset to make sure the area suited its needs perfectly.
Businesses who have already had their licences approved for the new development have been given the opportunity to operate in other so-called 'free zones' while the project remains under construction. Meanwhile developers are still inviting other firms to register their interest.