Dubai's car-free initiative could be extended nationwide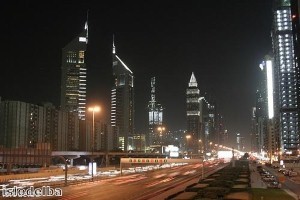 Dubai's car-free initiative could be rolled out across the whole country.
This is according to the Khaleej Times, which reported that the environment and water minister Dr Rashid Ahmed bin Fahad has expressed an interest in making the programme a national event. He described it as an important initiative that encouraged the population to leave their cars at home, therefore reducing the amount of environmental pollution.
The announcement is seen as another feather in the cap for Dubai, which prides itself on its forward-thinking approach. It always aims to be portrayed as an innovator and the news of it once again influencing others will no doubt be welcomed by officials.
Meanwhile, the emirate celebrated its fifth-annual event today (February 19th), with ministers leading thousands of residents in keeping their cars at home and riding public transport. The director-general of the municipality, Hussain Nasser Lootah, rode the Metro system from the Etisalat station to the Union stop by the local authority's headquarters.
He stated he would encourage his entire staff who did not need to travel on work business to leave their vehicles behind and take advantage of the bus and tram networks. He added that 200 employees were already regular commuters.
Lootah commented: 'It's a message we are trying to convey to the people to try and reduce the number of cars on the street. We have noticed that the number of cars are increasing these days. We do not want an individual movement, but a mass movement.'
Meanwhile, the chief executive officer of the Roads and Transport Association Dr Yousif Al Ali, has announced he will look into the possibility of making public transport free of charge during the national car-free day. He added that such a scheme already exists, but rolling it out again would make sense as both initiatives are aimed at encouraging the population to leave their cars at home.
A host of exhibitions were showcased during today's event, including a display of eco-friendly cars and a mime about environmental pollution.