Dubai's car-free day launches tomorrow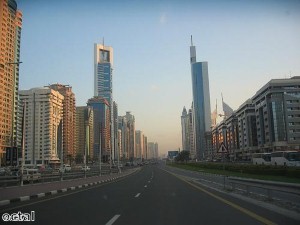 Dubai will be holding its fifth annual car-free day tomorrow (February 19th).
The emirate's Municipality has collaborated with 61 companies from the government and private sector to stage the event. Employees of these organisations will be taking public transport to get to work, including the metro, bus network and the Abra boat system.
Officials are hoping the day will raise awareness about the benefits of leaving cars at home, in the hope of reducing Dubai's traffic levels. They expect 7,000 vehicles to be taken off the road during the programme, saving 20 tonnes of carbon emissions.
Parking lots at Municipality properties will also be closed, while its corporate partners will follow suit. As a result of this, customers and people needing to visit government buildings have been encouraged not to take their cars.
Organisers are hoping the event will attract 7,000 people to sign up to take part. Online applications have so far reached 4,000 and the government expects this figure to rise as the the event approaches.
To kick off the day, the director-general of the Municipality, Hussain Nasser Lootah, will ride the Metro system alongside other officials, before launching a series of green initiatives. A group of employees will also stage a cycle rally from Deira city centre to the government buildings.
Entertainment will be provided by traditional art performances and folk dancing, while hundreds of people who applied online to take part in the event will win sports bikes.
Mohammed Al Noori, director of the corporate marketing and relations departments, commented: 'We need to change the attitude of people who are not much aware of the importance of such green initiatives. I am sure the majority of people can do something to spread the great message behind this event through their contacts so as to get the maximum result.'
Officials have also been trying to come up with new measures to try and resolve the current traffic congestion in Dubai. These include introducing eligibility standards to own a car, increasing the cost of parking and insurance and raising the frequency of public transport facilities.