Dubai's building boom continues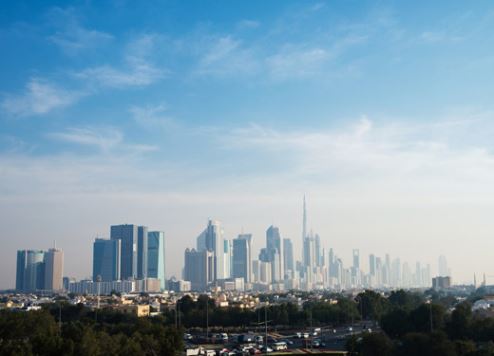 The emirate is forging ahead with infrastructure and real estate developments worth billions, a new report has revealed
Dubai has never been fazed by periods of global economic uncertainty and 2016 is no exception as the emirate surges ahead with construction and real estate projects worth billions of dollars.
In fact, in Q1 2016 alone, more than $3 billion worth of projects have been awarded, spanning a wide range of sectors including high-end luxury hotels, commercial, retail and other mixed-use developments such as Dubai Creek Harbour.
According to MEED Projects, Dubai will award $36.5 billion worth of projects this year, which in the research firm's latest Construction Pulse – Dubai report, compiled in partnership with Deloitte, is a "clear sign of a more mature diversified economy". As of October 11, 2015, $56.3 billion worth of projects were in the execution stage, with the lion's share (40%) accounted for by residential developments.
The second biggest segment was hospitality and leisure (20%), followed by mixed-use developments (18%).
In addition, the value of projects in the planning stage in Dubai at that point in time was $337.2 billion, an overwhelming percentage of which were mixed-use developments (65%), followed by transport-related construction (16%).
"The construction market in Dubai is clearly still active across a broad mix of sectors," says the report, noting $390.8 billion worth of projects are under construction or in the planning stage across the emirate.
This amount of investment is "extraordinary" for an emerging market such as Dubai it says, and provides further evidence of the emirate's ambition to diversify its economy.
"What has also been stark is the re-commencement of previously stalled projects across a number of sectors – notably major mixed-use schemes, retail and residential – further underpinning the longer term confidence within the market irrespective of softening oil prices and recent economic uncertainty across Asia," says the report.
"With Expo 2020 secured, certain sectors are displaying growth in response to the expected visitor numbers and subsequent development that will become a by-product of the event."
The Construction Pulse – Dubai reveals residential projects worth $21.3 billion are currently under construction in Dubai, while expected pipeline spend for this sector is $30.1 billion. Leisure and hotel developments already going ahead are worth $10.6 billion while an anticipated $13.5 billion worth of projects will commence development in the near future, the report reveals.
Around $9.9 billion is being spent on mixed-use developments in Dubai right now, but this expenditure is expected to rocket to a staggering $218.7 billion going forward.
The Deloitte and MEED Projects report also provides a number of highly encouraging performance predictions for Dubai's economy and key market segments.
"Economic growth in Dubai is likely to outperform the UAE GDP growth forecast of 3.6% per annum between 2015 and 2019, largely due to the fact that its economy is considerably less dependent on oil revenue compared to other emirates," the report says.
In terms of the residential pipeline, between 10,000 and 40,000 units will be delivered in 2016 and sales prices will stabilise as the market matures.
Hotel occupancies will hover between 70 and 75% representing the "new norm" this year and serviced apartments are likely to "attract greater attention drive by key source market trends, growing visitor demand for longer average lengths of stay and better value accommodation".
"With plans to increase capacity at Dubai World Central (DWC) and Dubai International (DXB) airports to reach a combined capacity of approximately 97 million passengers in 2016, we foresee opportunities to capitalise on hospitality demand from transit and destination visitor growth and by promoting extended stay-overs in the emirate," the report notes.
Investor confidence also remains robust, says Deloitte, citing data from the Dubai Land Department (DLD) revealing the value of real estate transactions in Dubai in H1 2015 were in excess of AED53 billion ($14.43 billion), completed by more than 19,000 investors.
"A number of residential transactions in Dubai have been driven by international investors, as opposed to domestic and international primary end-users," the report notes.
"International investors in Dubai have also been seeking higher returns in less established residential areas of the emirate and this is reflected in the sales price performance of Dubai's residential sub-markets, which saw an average increase of 54% in the apartment sub-market1 and 32% in the villa sub-market2 between H1 2012 and H1 2015."
Sub-market1 and sub-market2 both include locations where The First Group has a strong presence, with the former including Dubai Marina and JLT and the latter including Dubai Sports City, reaffirming the property developer's solid growth strategy.
The Construction Pulse – Dubai report concludes that the "sheer size, scale and value" of projects underway in Dubai dwarf many others outside of the region, providing "clear evidence that the development cycle remains strong and in an upwards trajectory".
The report adds: "Who knows, Dubai may even mature to the extent that it could surpass some of the more established cities across the world, such as London, Paris or New York, in terms of its level of sophistication and dedication to sustainability, smart city principles and ultimately success in delivering projects that are demand-driven and profitable."