Dubai's Air Show's new home previews dedicated space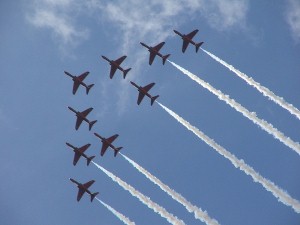 Dubai Air Show will have a unique, new venue this year, which was previewed ahead of the event today (October 30th) at Dubai World Central.
This year will see the show, which runs between November 17th and 21st, held in a purpose-built location, AMEinfo reports.
It will also be accompanied by Skyview, taking place from November 18th to 21st, which will feature the entertainment side of the show, including displays and stunts each day between 14:00 and 17:00 local time.
Dubai Air Show, organised by F and E Aerospace, is one of many unique events in Dubai, combining both entertainment and business. For the former, the extra space offered by the new location will allow aerial performances from both the UAE's Al Fursan aerobatics group and the similar Red Arrows team from the UK.
This will be the 13th edition of the show and will host as many as 60,000 trade visitors to see over 1,000 displays and exhibits - attendance figures are already 11 per cent higher than the last occasion in 2011.
Chief executive officer of F and E Aerospace Sharief Fahmy said: 'Exhibitors and visitors will immediately 'feel' the difference, with halls having more spacious aisles, an improved media centre with good press facilities clustered in one area, a large static park for aircrafts and more space for outdoor pavilions, which can now remain on site permanently - a growing trend at airshows.'
He said the move was due to growth in Dubai's aviation sector and the new exhibition location has a total floorspace of 645,000, over twice the size of the previous site.
Aviation is also a key sector in Dubai and one tied closely to its tourism and international status. It has both Dubai International Airport and the recently opened passenger terminal at Al Maktoum International Airport in Dubai World Central - which will be the world's largest aviation hub when it is fully finished.