Dubai World Central – Al Maktoum Airport wins top 'green' award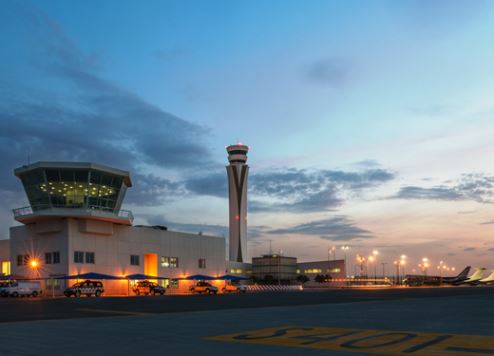 Dubai Airports has scooped a leading international 'green' award for its air traffic control (ATC) facility at Dubai World Central (DWC) – Al Maktoum Airport.
The company, which operates both DWC and Dubai International (DXB), was awarded the gold standard according to the requirements of Leadership in Energy and Environmental Design (LEED) for the operation and maintenance of ATC buildings.
The facility, which is spread across 19,880 square metres at Dubai's second airport, comprising the control tower, technical block and surrounding grounds, achieved a LEED score of 68, placing it solidly in the Gold category, which starts from 60 points.
The Gold certification was recently awarded by the United States Green Building Council (USGBC). The facility was assessed on its performance in five categories including sustainability, water efficiency, energy and atmosphere, materials and resources, indoor environmental quality and innovation in operations and regional priority.
The LEED programme aims to ensure all processes are sensible and appropriate for the building, as well as being sustainable. 
During the study, it was found the building is currently using 40 percent less water than the LEED baseline and 100 percent of irrigation is being conducted with treated water. High scores were also given by virtue of a sustainable purchasing policy for maintenance and operations consumables and durable goods in the form of electric and IT equipment, furniture, cleaning products and materials.
"Due to the unique challenges presented by the functionality of an ATC tower, particularly the requirement for large reflective glass surfaces, very few globally have achieved the gold standard," said Omar Binadai, vice president, Engineering Services at Dubai Airports.  
"We are pleased to have achieved this rating and thankful for the close cooperation of Dubai Air Navigation Services (DANS) and Dubai Aviation Engineering Projects (DAEP). "Managing efficient and environmental-friendly buildings is in line with Dubai Airports' commitment to grow and manage our business in a sustainable manner and to limit our carbon footprint." 
LEED is the internationally-accepted certification for the design, construction and operation of high-performance green buildings. LEED for Existing Buildings Operations and Maintenance (LEED EBOM) Certification promotes a whole-building approach to sustainable operations and maintenance based on efficiency, resource conservation, cost reduction, and continuous improvement.