Dubai will build largest-ever Expo site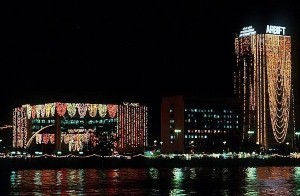 Dubai has revealed it intends to construct the largest-ever Expo site.
The project, which is estimated to cost up to $4 billion (£2.4 billion), will take place at Dubai World Central (DWC). An additional $8 billion of secondary infrastructure spend will also occur in the emirate, as it prepares itself to host the global event in 2020.
According to Deloitte Middle East, Dubai's successful bid to host the Expo will see the creation of many construction opportunities within several areas of industry, including hospitality, retail and transport. The Roads and Transport Authority has already stated it is to fast-track a $1.36 billion expansion of the Metro's Red Line to connect to DWC.
Developers are beginning to announce major projects in the run up to the event, including a 13.63 million sq m golf-centred residential estate adjacent to the area surrounding the main site. Cynthia Corby, audit partner and construction industry leader at Deloitte Middle East, stated this would be the first of many large-scale developments to take place in Dubai over the coming years.
She added: 'It only takes a quick analysis of the impact of an expected additional 20 million visitors over a six-month period to see that significant investment in hospitality and retail infrastructure will be required.'
Because of this, the construction sector is expected to benefit hugely from Expo 2020. Ms Corby claimed that over 30 per cent of the total number of new jobs expected to be created by the event will happen in the industry alone.
Meanwhile, Jesdev Saggar, managing director of infrastructure and capital projects at Deloitte, has urged the emirate to learn from past mistakes as it continues to recover from the global economic crisis. He stated Dubai should pay careful attention to coordinating and planning construction projects in the run up to the event, adding that the success or failure of the event will be a result of how well the government capitalises on its potential.