Dubai welcomes 60,000 cruise passengers in one day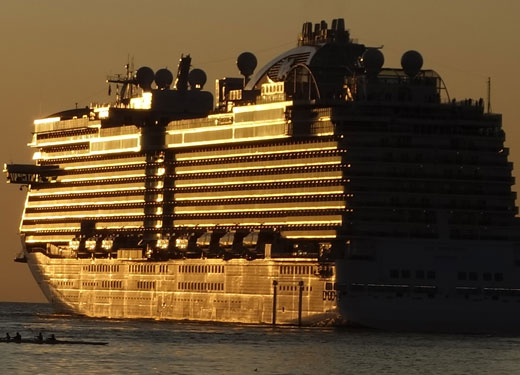 Dubai's cruise industry marked another milestone in 2019, welcoming 60,000 cruise passengers to its Mina Rashid terminal on 29 December.
It marked the single busiest day yet for Dubai's burgeoning cruise sector, with TUI Cruises' Mein Schiff 5, Pullmantur Cruises' Horizon, MSC Cruises' MSC Lirica, Jalesh Cruises' Karnika, Costa Cruises' Costa Diadema and Royal Caribbean's Jewel of the Seas all mooring at the terminal.
The arrival of the latter two cruise liners also marked the first time either had docked in Dubai.
The emirate's 2019/20 cruise season is set to be the busiest to date, with more than 200 passenger ships scheduled to call at Mina Rashid Port. The influx of ships will deliver more than 1 million cruise tourists to Dubai, according to government estimates.
"With the arrival of six leading international cruise liners to Dubai on a single day, we are delighted to celebrate this historic occasion for the city," commented  Hamad Bin Mejren, senior vice president, Dubai Tourism.
"As testament to the emirate's position as the leading hub for cruising in the region, this milestone is a sound reflection of how far Dubai has come on its journey to becoming the preferred destination of choice for international cruise travellers and cruise operators alike.
"As we increase momentum, and continue our efforts to raise the bar even higher for the city's cruising industry, the support and collaboration we receive from our stakeholders will be paramount to our sustained success and will allow us to ensure that we are able to provide enriching, world-class services to cruise visitors from across the globe."
Dubai's cruise industry is one of the emirate's fastest-growing tourism sectors.
According to data issued by Cruise Arabia and Africa, the number of cruise passengers to Dubai almost doubled from 320,000 in the 2013/2014 cruise season to 625,000 in the 2016/2017 season, representing a 95% increase in just three years.
The figure nudged up to 725,000 cruise tourists during the 2017/2018 season, according to Dubai Tourism, thanks to 150 ship calls involving more than 20 world-leading cruise lines, up 15% on the previous year.
Around 825,000 cruise tourists visited Dubai in the 2018/2019 season, putting the city well on track to meet its 2020 cruise visitor target of one million passengers.