Dubai welcomes 1.78m visitors in one week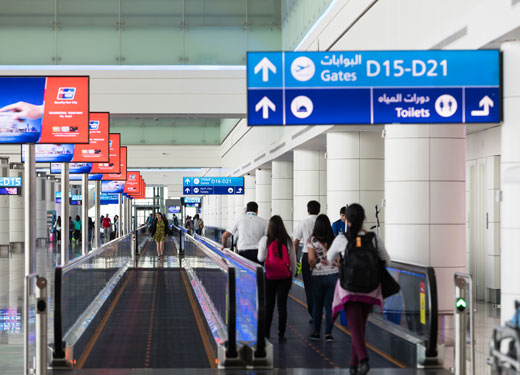 Dubai's air, sea and land ports welcomed a record number of arrivals in the final week of 2018, according to new government data.
More than 1.78 million people passed through the city's airports, ports and land borders in the period spanning 23 December to 1 January.
December 28 marked the busiest day of the surveyed period, with a record 111,218 passengers arriving at Dubai International Airport (DXB) and Dubai World Central Airport (DWC). Both facilities accounted for 92% of the total number of arrivals and departures processed at all international entry points across the emirate.
The news tops a bumper period for Dubai's two international airports. Operator Dubai Airports revealed DXB welcomed almost 7.1 million passengers in October and 6.9 million in November 2018, bringing the hub's year to date traffic to 81.4 million passengers.
Flight movements totalled 33,031 in November while the average number of customers per flight rose slightly to 216 (0.5%).
More than 373,000 flights had taken-off or landed at DXB in the 11 months to November, bringing the total number of daily flight movements at DXB to 1,120. 
India remained DXB's top destination country, with total traffic reaching 1,032,662 passengers during the month, followed by Saudi Arabia with 509,446 passengers and the UK with 466,459.
The top three cities were London (275,141), Mumbai (221,812) and New Delhi (183,680).
Meanwhile, passenger traffic at DWC, Dubai's second international airport, surged 26.1% in the third quarter of 2018.
DWC welcomed 119,000 customers during the period, bringing the total number of passengers who used the facility to 637,176. 
DWC is currently undergoing significant expansion as part of Dubai's infrastructure investment programme designed to support the staging of next year's World Expo.
The airport, which is located in Dubai South near to the expo site, will see a significant rise in passenger traffic attending the event.