Dubai ups game to attract more Omani tourists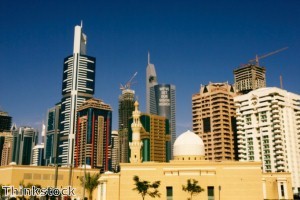 Dubai is working hard to boost the number of tourists - especially families - visiting from Oman with its new 'Summer is Dubai' campaign, according the Times of Oman.
Saeed Mohammad Mesam Al Falasi, director of the Strategic Alliance Division and Dubai Festivals and Retail Establishment (DFRE), an agency of the Department of Tourism and Commerce Marketing​ (DTCM), told the newspaper: 'We know exactly what the holiday makers from Oman want and we expect more tourists from Oman to enjoy the surprises this year, also."
Mr Falasi made his comments while at a roadshow held in Muscat last Wednesday (June 4th). He believes Dubai is popular among Omani tourists as a holiday destination because of the country's close proximity to the UAE, as well as its shared values and culture.
This means it is a core market for the emirate, which is why the DTCM has launched the 'Summer is Dubai' campaign designed specifically to entice prospective Omani tourists, which has been taken on the road.
Mr Falasi continued: 'Visitors from all over the Gulf Cooperation Council (GCC), including Oman, are being welcomed to Dubai with open arms this summer with a range of attractions designed to appeal to families, including a calendar of festivals and cultural activities, the ever-popular Modhesh World, and an array of shopping offers and promotions."
The campaign advertises some of the highlights Dubai has to offer, including the best places to go, things to do and ways to keep children entertained - something that would be of great interest to parents planning the next family holiday. Family-friendly hotels are likely to experience a surge in visitors if the marketing campaign is successful.
Saleh Al Geziry, director of Overseas Promotions & Inward Missions at the DTCM, believes this summer is the perfect time to visit the emirate, and it would be the ideal destination for new visitors or those who have been many times before.
Modhesh World - included in 'Summer is Dubai' - kicks off tomorrow (June 12th) and will run at the Dubai World Trade Centre until September 8th. The event is packed with kid-friendly activities, such as the WWE non-contact wrestling experience and the Hello Kitty and Friends zone.