Dubai unveils futuristic Sky Pod transport system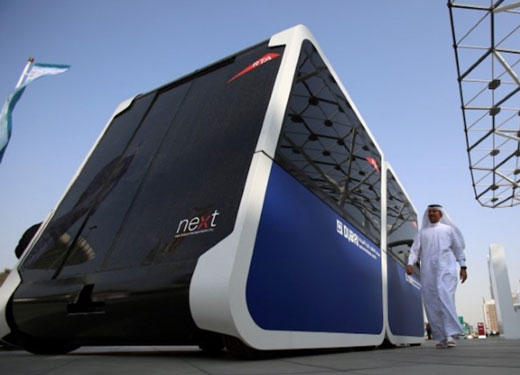 Dubai authorities have unveiled a futuristic Sky Pod transport system, which they say will save power and require less infrastructure to operate.
HH Sheikh Hamdan bin Mohammed bin Rashid Al Maktoum, Crown Prince of Dubai and chairman of Dubai Executive Council, was briefed on the Dubai Sky Pod project during a recent visit to the Roads and Transport Authority's (RTA) Metro Depot in Al Rashidiya.
The mobility system would use an area of land that is 100 times smaller than that used by conventional transport with the same capacity, while the pods' power efficiency is five times greater than electric vehicles, RTA director general and chairman Mattar Al Tayer explained.
The first model of the Dubai Sky Pod project is the Unibike – a lightweight vehicle fitted with steel wheels that moves along suspended rails.
Each pod can accommodate up to five passengers, travel at a maximum speed of 150km/h, and carry around 20,000 people per hour.
The second model is the Unicar, which can accommodate up to six passengers and also travel at speeds up to 150 km/h. Its maximum capacity is 50,000 passengers an hour.
The RTA is yet to reveal if and when the Sky Pod project will be rolled out.
Dubai's Crown Prince also attended a presentation highlighting the RTA's efforts to operate autonomous air taxis and inspected the new Dubai Metro train that recently arrived and is being tested at the depot.
The authority has endorsed an AED590 million (US$160.6 million) project for the expansion of smart traffic systems in Dubai.
It's part of Dubai's wider strategy to establish itself as the world's smartest city, said Al Tayer.
"It encompasses the design and construction of an integrated infrastructure for Dubai smart traffic systems and the construction of a new traffic control centre at Al Barsha. It envisages lifting the smart system coverage of Dubai's road network from the present 11 percent to 60 percent," he explained.