Dubai Tram begins trial runs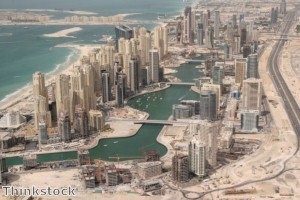 A technical trial run of the Dubai Tram process took place over the weekend (January 26th) as the groundbreaking scheme nears full operational status.
It travelled 2.5km from Al Sufouh Depot and comes after a month of in-house tests were carried out on the vehicles to make sure they meet current safety standards. Over the next three months, a range of further tests will be carried out.
Once it is up and running, some 27,000 riders per day will be able to make use of the service, with this figure set to rise to 66,000 by 2020 as the route is expanded.
Mattar Al Tayer, chairman of the board and executive director of the Roads and Transport Authority (RTA), told Gulf News: 'Road users will start to see the Dubai Tram in motion on roadsides at Al Sufouh, Jumeirah Beach Residence and the Marina. Vehicular traffic and pedestrians will come across trams at certain points and the tram will have right of way.
'Motorists are required to be more attentive and compliant with the rules and regulations governing the tram operation and adhere to the new directional signage in place to ensure streamlined traffic movement.'
The Dubai Tram scheme is part of a wider development promise to improve transport links in the emirate, as it targets greater foreign investment across a range of sectors in order to become one of the globe's best investment areas.
It is the world's first tramway to have station doors that are fully synchronised with the tram's doors opening and shutting mechanism, which means maximum convenience, safety and security will be provided to passengers.
There will be a total of 17 stations, 11 of which will be operational during phase one of the project, with the remaining six set to be opened further down the line.