Dubai tourism showcase smashes all records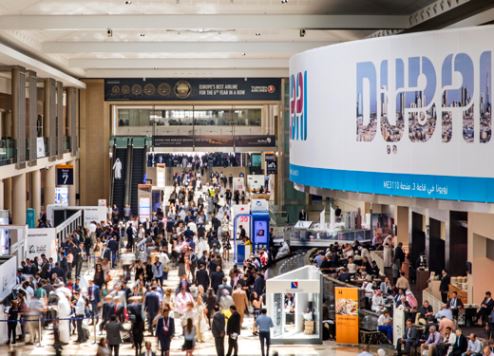 The 2017 edition of Arabian Travel Market attracted more than 28,000 delegates, making it the most successful installment of the event to date
Arabian Travel Market (ATM), the Middle East's biggest travel and tourism event, is staged at the Dubai World Trade Centre (DWTC) each year, and is widely regarded as a barometer of industry sentiment.
The 24th edition of the show, which took place in April (24-27), smashed all records, with visitor numbers up 7 percent, crossing the 28,000 mark for the first time – a true indication that the sector is thriving, particularly in Dubai, which is gearing up to host Expo 2020 Dubai.
This year's event also witnessed a 10 percent hike in delegates from the GCC.
Over the last five years, ATM has reported a 71 percent increase in visitors, says the show's Senior Exhibition Director, Simon Press.
"The continued growth in ATM is testament to the strength of the travel and tourism industry in the Middle East," he says.
"The event has also built on its quality year on year and the professionalism of exhibitors and stands not only increases the brand value of their own organisation but also that of Arabian Travel Market.
"Exhibition stand contracts signed during ATM 2017 for next year are up 38 percent year-on-year, with exhibitors keen to reserve their space for what promises to be a record-breaking event in 2018 as ATM celebrates its 25th anniversary."
Held under the patronage of His Highness Sheikh Mohammed Bin Rashid Al Maktoum, Vice President and Prime Minister of the UAE and Ruler of Dubai, ATM has not only grown to become the largest event of its kind in the region, but one of the biggest in the world.
The 2017 edition, which carried an experiential travel theme and was sponsored by La Perle by Dragone – the water and light show currently under development at Al Habtoor City – boasted an additional hall for the first time.
ATM attracted 466 main-stand exhibitors from 87 countries, while more than 100 new exhibitors made their debut. In total, the number of countries represented at ATM 2017 was 157.
The ATM Conference got off to an inspiring start with an informative session focusing on the legacy set to be created by Expo 2020 Dubai, which is now just under three years away.
Key industry stakeholders revealed plans for the expo's main site, with 80 percent of the plot set to be re-developed at the conclusion of the event, while all of Expo's assets and transport infrastructure will be re-purposed for future use by a range of tenants and major private sector firms.
"The seminar also explored the importance of Dubai's sustainable tourism initiatives, the expansion of the emirate's airports capacity and the engagement of global audiences through partnerships with celebrities and social media influencers," explains Press.
The UNWTO & ATM Ministerial Forum, which also took place on the first day, was attended by more than 20 government ministers and global leaders. It concluded that the main priorities for the region's tourism industry include human resources development, public/private sector cooperation, connectivity, technology and sustainability.
"Despite all external shocks, the Middle East and North Africa tell one of tourism's biggest success stories. A story that brings an immense opportunity to make tourism a pillar of economic diversification, job creation and sustainable development in this region," says UNWTO Secretary-General, Taleb Rifai.
"This meeting provided an opportunity to identify the priorities of tourism policy for the MENA destinations, strengthen regional cooperation and public-private partnerships that prepare the region to welcome the 195 million international tourist arrivals – almost triple the present volume of 72 million – forecasted by UNWTO for 2030."
The inaugural Halal Tourism Summit was one of many seminar sessions that took place on the Global Stage and once again, established Dubai and ATM as a platform for exploring pertinent regional and global topics.
It welcomed global halal travel experts to the stage including Rafi-uddin Shikoh, CEO of DinarStandard, and Faeez Fadhlillah, CEO of Salam Standard & Tripfez, in a discussion about halal destination strategies and how to sell halal travel.
Muslim travel is a key sector for economic development and job creation throughout the world, generating $139 billion in GDP and creating 4.5 million jobs worldwide. The Middle East's travel and tourism industry is well placed to capitalise on this growing market, panelists concluded.
Other popular show features included the Wellness and Spa Lounge, Travel Agents' Academy, Buyers' Club and the Bloggers' Speed Networking events.
"We have followed market trends in the region and listened to what our exhibitors want," says Press. "The show is designed with content in mind and I think this year we were able to fully explore our theme of experiential travel, while also covering the hot topics in the industry."
The ATM Best Stand Awards also returned for another year. Delighted winners included Etihad Airways, Amadeus, Kerzner International Resorts, Al Rais Tours and Holidays LLC and Jetclass.
Responsible tourism, which played a huge role at this year's show and continues to be at the forefront of the industry, has been named as the official theme of ATM 2018.