Dubai Tourism and leading Aussie fashion designer launch capsule collection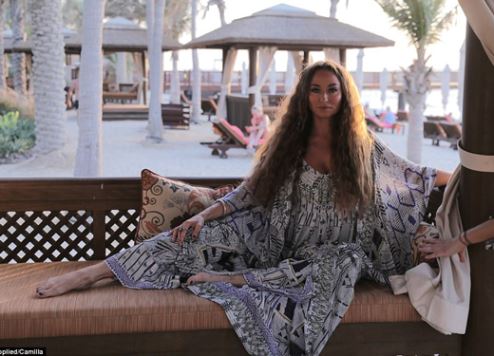 Dubai Tourism has teamed up with one of Australia's top fashion designers to launch a desert-inspired clothing and accessories range.
Camilla Franks, the designer behind popular fashion label CAMILLA has partnered with the tourism agency to create 'My Dubai Dream', a capsule collection that takes inspiration from the Arabian dunes and the city's multicultural roots.
My Dubai Dream features the iconic kaftan and other fashion items, as well as several travel accessories including a passport holder, beach bag, beauty bag and scarf, in a signature Camilla-designed print that reflects the colours and designs of Dubai.
In late 2016, Franks travelled to Dubai for a four-day 'printspiration' trip. Here she wandered the souks of Dubai's Old Town, discovered the courtyard cafes and art galleries of Al Fahidi District of Bastakiya, dined with Emiratis, marveled at the architecture of the mosques, learned Arabic calligraphy with a master, rode camels at sunset across the dunes and experienced the beauty of the desert at dusk.
"My time in Dubai was adventurous, regal and eye opening and I wanted to incorporate my experience into a print and truly push the boundaries of people's perceptions of Dubai," said Franks.
"The design, called My Dubai Dream, is made up of references including the intricate tile work and architecture at my Dubai hotel, Jumeirah Al Qasr, the jaw-dropping ceilings of the Al Farooq Omar Bin Al Khattab Mosque and the Presidential Royal Suite at the iconic Burj Al Arab."
Julie King, director – Australia and New Zealand, Dubai Tourism, described 'My Dubai Dream' as an "exciting collaboration for Dubai Tourism".
"While many Australians associate Dubai with a bustling fashion and shopping scene, the aim of this collection is to showcase the natural beauty and culture and tell the story of the city through design. CAMILLA's My Dubai Dream brings that to life, harnessing Dubai's vibrant colour palate with prints inspired by architecture, designs, tiles and artworks of the city and its hotels and attractions."
The collaboration also highlights the city's position as an emerging fashion destination, with many international designers opening stores or attending fashion shows in the city.
My Dubai Dream is available in stores now.