Dubai: Top 5 architectural icons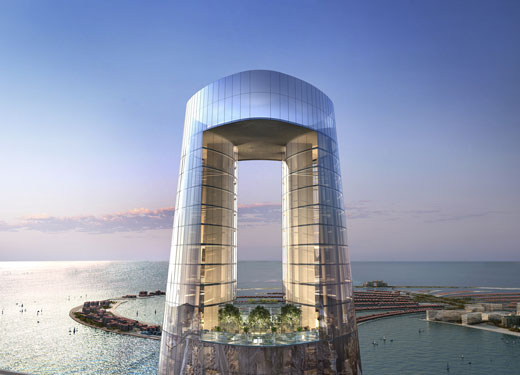 Dubai's remarkable skyline has made it famous the world over. Here's our list of the city's top five architectural icons
Ciel
Currently under development in the heart of Dubai Marina, Ciel is set to become one of the city's great landmarks. Reaching a height of 1,199 ft (365.5 metres) and housing 1,042 guestrooms, Ciel will be the world's tallest hotel upon completion and seventh tallest building in Dubai.
The building, designed by award-winning Canadian architectural firm, NORR Group, features a striking design, contemporary interiors and remarkable rooftop observation deck, which will provide stunning 360-degree views across the Marina district, The Palm Jumeirah and Arabian Gulf.
The inclusion of the observation deck will establish Ciel as a visitor attraction in its own right, adding to Dubai Marina's strong appeal as a leading tourism destination.
The hotel will become the flagship in The First Group's rapidly expanding portfolio of hotels, which also includes Millennium Place Marina, Wyndham Dubai Marina and TRYP by Wyndham Dubai.
Despite still being under construction, Ciel has already received multiple international awards for its architectural design. In 2019, it was named a winner in the Hotel Architecture, New Hotel Construction and Design, Commercial High-rise Development, and Residential High-rise Architecture categories at the Dubai, Africa & Arabia Property Awards.
Ciel Key Facts
Completion:   TBC
Architect:       NORR Group
Height:           365.5 metres
Claim to fame: World's tallest hotel
Burj Khalifa
The world's tallest building at an incredible 828 metres, Burj Khalifa is a global icon that has put Dubai on the map.
The centrepiece of the bustling Downtown Dubai district, Burj Khalifa represents an incredible engineering feat. Completed in 2010 at a cost of US$1.5 billion the building was designed by London-based architectural firm Skidmore, Owings & Merill, which was also responsible for the iconic One World Trade Centre in Lower Manhattan, New York.
Burj Khalifa has become a major tourist destination in its own right, and its observation deck located on the 124thfloor, known as At the Top, ranks as the world's tallest outdoor deck of its type.
Burj Khalifa Key Facts
Completion:   2010
Architect:       Skidmore, Owings & Merill
Height:           828 metres
Claim to fame: World's tallest building and overall structure
Burj Al Arab
The world had never seen another building like it when Burj Al Arab opened in 1999 as "the world's only seven-star hotel". Setting the benchmark for indulgent luxury, the sail-shaped architectural masterpiece stands at a height of 321 metres and is located on a manmade island 280 metres from the shore. Burj Al Arab currently ranks as the world's fifth tallest hotel.
The building's designer, Tom Wright, says his brief was to "create an icon for Dubai, a building that would become synonymous with the place, as Sydney has its Opera House and Paris the Eiffel Tower".
The Burj Al Arab is home to 202 suites spread across 28 floors, while the hotel's Royal Suite ranks among the world's top 10 most expensive hotel rooms.
Burj Al Arab Key Facts
Completion:   1999
Architect:       Tom Wright, Atkins
Height:           321 metres
Claim to fame: 'World's only seven-star hotel'
Museum of the Future
The world's first museum dedicated to showcasing future technologies and innovations, The Museum of the Future is fittingly housed in one of the world's most spectacular and unique buildings.
The museum's oval shaped architectural design, which was conceived by Shaun Killa of Killa Designs, features an exterior notable for its 3D-mapped Arabic calligraphy spread across an aluminium skin. Inside, the 78-metre-high building accommodates six exhibition floors and one administration floor above a three-storey podium, as well as auditorium, retail, parking and service spaces.
"As an institution dedicated to design and innovation, the Museum of The Future will be a destination for the best and brightest inventors and entrepreneurs, offering an integrated environment empowering creative minds to test, fund and market ideas for futuristic prototypes and services," says Killa.
"It will bring together inventors, designers and researchers, presenting a range of technologies, becoming an incubator for ideas and designs, a driver for innovation, and a global destination for inventors and entrepreneurs."
Museum of the Future Key Facts
Completion:   2019
Architect:       Killa Designs
Height:           78 metres
Claim to fame: 'World's first museum dedicated to future innovations'
Dubai Frame
Rising to a height of 150 metres and spanning a distance of 105 metres, Dubai Frame casts an imposing shadow over Dubai's Zabeel Park. The attraction, which was built at a cost of $43.5 million, includes a 93-metre-long suspended glass-floored viewing platform providing visitors with panoramic views of Downtown Dubai.
The viewing platform itself is complemented by an exhibition gallery and museum on the ground floor, while a panoramic elevator takes visitors from the ground floor up through the rib of the frame to the top floor.
The structure has quickly become one of Dubai's most popular tourist attractions, attracting more than one million visitors in its first full year of operation.
Dubai Frame Key Facts
Completion:   2018
Architect:       Fernando Donis
Height:           150 metres
Claim to fame: 'The largest frame in the world'