Dubai to position itself as world fashion hub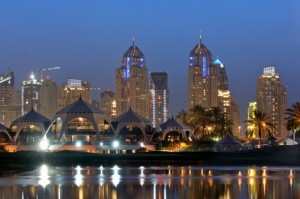 The Dubai government is pulling out all the stops to transform the city into a global fashion hub.
A memorandum of understanding has been signed between the Dubai Technology and Media Free Zone Authority (DTMFZA) and the general secretariat of the Executive Council of Dubai, which will see them work together on the 'Dubai Fashion 2020' campaign.
Although the emirate does not hold the same prestige as renowned shopping hotspots like New York, Paris or Milan, it has certainly started to build a strong reputation in the fashion world in recent years.
Indeed, the sheikhdom boasts the largest malls on the planet and most of the world's top clothes designers now have a presence in the city.
Dubai Fashion 2020 is aimed at stimulating even more activity in the retail sector, which will ultimately help the emirate to boost its gross domestic product.
As well as encouraging international brands to invest more money in Dubai, the government is keen to give up-and-coming local designers every opportunity to flourish.
The scheme will be closely linked with the Dubai Design District, which is a massive $1.1 billion (£712 million) development.
Last week (June 11th), Tecom Investments revealed the first phase of the new zone should be ready by January 2015 and it will certainly put Dubai's fashion industry on the map. The district will focus on all things design-related, including clothes, furniture and interiors.
Secretary general of the Dubai Executive Council Abdulla Al Shaibani explained why the Dubai Fashion 2020 initiative is so important.
'We will work in the coming period on developing a strategic plan that supports the objectives of the fashion industry and promotes the emirate's position,' he remarked.
Meanwhile, Ahmad bin Byat - director general of the DTMFZA - said the project will 'unlock the emirate's full potential'. He also stated that experts estimate the global fashion industry generates more than a trillion dollars a year.
'With the growing demand for brands and luxury goods across the region as well as the success achieved by local designers internationally, we believe that Dubai is well positioned to enhance its role in the global fashion industry,' he commented.