Dubai to lead UAE tourism growth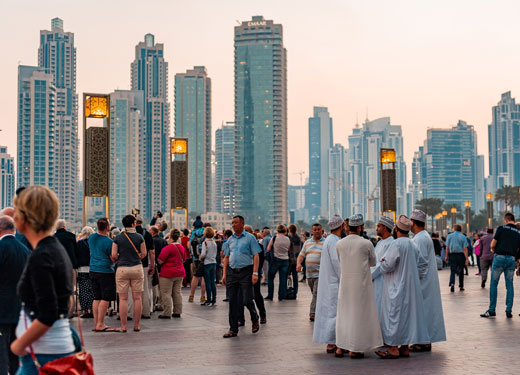 A new report has predicted arrivals from the UAE's top five tourism source markets will post double-digit growth through 2023
Dubai is set to capitalise on the growth in the number of tourism arrivals from the UAE's top five source markets over the next five years, according to a new report published ahead of Arabian Travel Market (ATM) 2019.
The growth is set to be driven by Expo 2020 and the district being built to stage the event, known as District 2020, the report predicted.
The number of Indian visitors arriving in Dubai alone exceeded 2 million in 2018, according to data from the city's official tourism body, Dubai Tourism.
However, the ATM report, published in conjunction with Colliers International, predicts more than 3 million will visit the UAE in 2023, representing a compound average growth rate (CAGR) of seven percent. Arrivals from Saudi Arabia and the United Kingdom, Dubai's second and third-biggest tourism source markets respectively in 2018, will grow at 2% and 1% to reach 1.76 million and 1.28 million respectively over the same period.
Arrivals from Russia and China, which were two of Dubai's fastest-growing tourism source markets last year, are expected to show above average annual growth rates for inbound passenger arrivals.
Commenting on the findings, Danielle Curtis, Exhibition Director ME, for Arabian Travel Market, said: "The number of Russian tourists travelling to the UAE will increase at a Compound Annual Growth Rate (CAGR) of 12% to 1.6 million in 2023, while the number of Chinese tourists visiting the UAE will increase at a CAGR of 8% to 1.27 million over the same period, according to the data."
Curtis said that ongoing public and private investments in Dubai's tourism sector would drive growth beyond 2020.
"Taking a look at the other key drivers, besides Expo 2020, Russian visitors to the UAE have grown in recent years, due to the introduction of additional and direct airline routes. Russian visitors also now benefit from relaxed UAE visa regulations and rising oil prices are helping to strengthen the Russian rouble, making the UAE more affordable. 
"Regarding Chinese visitors, according to some analysts China's middle-class will swell to 338 million households by 2020, a 13% increase in just five years. Moreover, by 2030 35% of China's 1.4 billion population will have $10,000 of annual disposable income, up 10% from 2018. Therefore, the growth potential for both markets is significant."]
The growth in arrivals is being matched by ongoing expansion in the country's hotel sector. The bulk of this growth is focused on Dubai as a result of investments designed to support the staging of Expo 2020.
With 20 million annual visitors expected to visit the city next year, plus an additional five million between October 2020 and April 2021 – 70% of which will come from outside the UAE – the overall hospitality supply in the emirate is expected to increase by 39% from 59,561 keys in 2017 to 82,994 in 2021 to meet this demand.
By way of comparison, in Abu Dhabi, the number of guestrooms across three, four and five-star properties is forecast to grow 13% from 21,782 in 2017 to 24,565 in 2021. 
Dubai welcomed 15.92 million overnight visitors in 2018, according to the latest statistics published by Dubai Tourism, up from 15.79 million a year prior.
There were 716 hotels operating in the city last year, up from 681 in 2017, while occupied room nights reached 30.13 million, compared to 29.21 million in 2017.